Briefings
Dawgs Fight Cougs and Ducks for Pac-10 Dominance
Armed with an experienced offense, the Washington Huskies figure to fight it out with Oregon and Washington State in the 2002 Pac-10 football race for the prized berth in the Rose Bowl.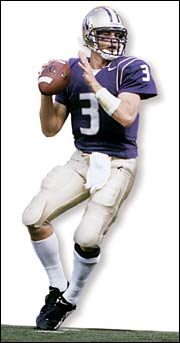 ---

With junior quarterback Cody Pickett (2,403 yards passing last year) running the show, the Huskies are primed for a pass at the Rose Bowl. Photo courtesy Husky Media Relations.

---
In one poll, the Pac-10 football writers picked WSU to win the conference and had the Huskies second. But in the USA Today/ESPN coaches poll, UW was ranked ninth while WSU was 14th and Oregon was 15th. And the CNN/Sports Illustrated Web site predicts an Ohio State-Washington match up in the 2003 Rose Bowl.
This season, the Huskies' firepower is based primarily in their passing attack. Quarterback Cody Pickett (2,403 yards passing, 10 TDs), one of the Pac-10's up and coming stars, has a full season under his belt as well as a speedy receiving corps. Sophomore Reggie Williams (a freshman All-American who had 55 receptions for 973 yards, the most by a freshman in Pac-10 history) and senior Paul Arnold (43 receptions, 649 yards) provide two potent deep threats. They will be protected by an experienced and deep offensive line, with four starters-Khalif Barnes, Todd Bachert, Nick Newton and Elliott Zajac-returning. And that's not including one of the nation's top-rated offensive linemen in freshman Nathan Rhodes.
The running game will need to improve on last year, when it gained a measly 2.9 yards per rushing attempt. Running backs Rich Alexis, Braxton Clemon and Chris Singleton have shown promise, but Coach Rick Neuheisel says, "We need to get better in our running game and more consistent in our passing. We cannot afford some of the turnovers we had last year."
But without a doubt, the Huskies' biggest question is their defense. Despite going 8-4 and sharing the Pac-10 title with a 6-2 record, the Huskies were outscored 323-310 last season. Those numbers include a late-season meltdown when Washington allowed 49, 65 and 47 points in three of their final four games. The Huskies gave up 112 points in their final two games, a 65-7 loss at Miami and a 47-43 loss to Texas in the Holiday Bowl, in which Washington blew a 19-point third-quarter lead.
"We played defense last year with a group of guys-while the effort level was never questioned-that was not up to the caliber of what a top-ranked program, talent-wise, should be," says Neuheisel. "We found ourselves in some deficit situations, whether it was because of talent or experience."
There is some good news on defense. Safety Jimmy Newell is back after missing all but three games last year with a shoulder injury. Cornerback Derrick Johnson is back after missing last season with a foot injury. Outside linebackers Kai Ellis played hurt last season but should be all healed, and Jafar Williams missed the entire season with ankle and knee injuries. But strong safety Greg Carothers and free safety Roc Alexander are coming off shoulder injuries, which makes things a bit iffy.
The defensive line lost Larry Tripplett and Marcus Roberson but sophomore end Manase Hopoi could add to the pass rush and redshirt freshman Tui Alailefaleula could fill some holes.
Oregon (11-1 last year) and Washington State (10-2) will give the Huskies stiff competition. Three of the Huskies' biggest games are on the road-they open the season at Michigan and finish with road games at Oregon Nov. 16 and at Washington State Nov. 23.
20020 UW Football Schedule
Aug. 31 at Michigan
Sept. 7 San Jose State
Sept. 21 Wyoming
Sept. 28 Idaho
Oct. 5 California
Oct. 12 Arizona
Oct. 19 at USC
Oct. 26 at Arizona State
Nov. 2 UCLA
Nov. 9 Oregon State
Nov. 16 at Oregon
Nov. 23 at Washington State