ALUMNOTES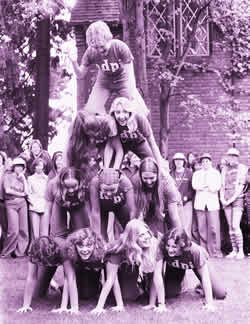 ---

PYRAMID OF PI: Members of the Alpha Delta Pi sorority gather in an unconventional setting during an outdoor festivity in the 1970s. File photo.

---
Lloyd Joseph Knutson, '35
Tacoma, notes that he is "a non-salaried, 90-year-old economist of the John Maynard Keynes school, not the free trade doctrine of today." He was a member of the 32nd Infantry Division that won nine battles during World War II and writes that, in a time of great economic decline, the country "needs more toughness, togetherness and brains."
Paul N. Vance, '38
St. Helens, Ore., celebrated his 62nd wedding anniversary with his wife, Frances, on Feb. 10. He also celebrated his 87th birthday on Feb. 18.
Roy E. Stier, '40
Santa Barbara, Calif., received his master's degree from UC-Santa Barbara. He spent 23 years in forest management and 18 years as a secondary teacher in Santa Barbara. He is the author of Down the Hill and Tamerlane, the Ultimate Warrior. He has three books pending.
Eileen Pratt, '49
Bellevue, and her husband, Bill, '48, write to say "we love the travel programs offered to alumni. We have now been on 18 trips with the UW alumni travel group. The most recent was a one-week trip to Cuba. We did it before ex-President Jimmy Carter!"
Thomas M. Gerbrick, '49
Montrose, Colo., had a research fellowship while in college that he used to study the measurement of verbal intensity. He spent 30 years in government as a management systems analyst before retiring in 1974. Since then, he hasn't "picked up anything save a golf club," he writes. He would like to know what his former classmates are doing-especially the "Clark Hall Gang" bridge players.
Attention Class of 1952
Your 50th reunion dinner will be held during Homecoming weekend on Friday, Nov. 1 in Mary Gates Hall (the old Physics Hall) on the UW campus. Additionally, on that afternoon, we will take you on a multimedia tour of current happenings on campus, looking at how they compare to 50 years ago. Invitations with full details will be mailed in August. If you are interested in serving on the Class of 1952 reunion committee, please contact Asia Rau at 1-800-AUW-ALUM.
James H. Herold, '52
Casper, Wyo., received his 50-year membership award from the Society of American Foresters. Now retired, he manages his 40-acre estate on Casper Mountain, and his hobby is birding. He reports that his wife died on April 27, 2001.
C. Merle Hanley, '55
Seattle, and his wife, Mae Beth, '77, '83, celebrated their 50th wedding anniversary on June 14 with a catered dinner for family and friends at the Museum of Flight.
You must be a member of the UW Alumni Association to be listed in the Alumnotes section. To join, call (206) 543-0540 or 1-800-AUW-ALUM, or visit UWalum.com on the Web.
Mary Louise Jamison, '60
Redding, Calif., retired in 1998 after 29 years as a psychiatric nurse. A breast cancer survivor, she says she is now doing fine. She loves to play golf and her banjo, and recently began oil painting after a 30-year hiatus. She also volunteers for the American Cancer Society, driving cancer patients to chemotherapy and radiation appointments.
Craig V. Showalter, '62
Northfield, Ill., compiled a bibliography of works of '60s writer Richard Brautigan, called Collecting Richard Brautigan. The book was published last year by Kumquat Pressworks.
Helen L. Bates, '64
Oak Harbor, and her husband, Ken, attended the 50th anniversary celebration of the first commercial jet flight made by De Havilland-the Comet. The event was held at the RAF Museum in Cosford, England. She and her husband, who was on the plane's design team, are both involved with the Comet Restoration Program and are looking for volunteers to help with the project. Contact her at (360) 675-4201 if interested.
Ron Elgin, '65
Bellevue, is president of DDB Worldwide Communications Group, the second-largest full service communications agency in Seattle. He serves on the boards of nine community service organizations throughout the area, including PONCHO, Ronald McDonald House Charities, the Swedish Medical Center Foundation and Knowledge Anywhere.
Dorothy Meyers, '65, '73
Marion, Mich., was recognized by the International Society of Poets as an international poet of merit. Her poems have been published in many anthologies, books, recorded on cassette tapes and posted to the Internet. Her latest, Out of a Mythic Love, is included in The Best Poems and Poets of 2001, published by the International Library of Poetry.
Elizabeth Furdell, '66
Jacksonville, Fla., was chosen as a 2002 Distinguished Professor at the Univ. of North Florida. She is a history professor and author of Print and Pills: Publishing and Medicine in Early Modern England, published by the Univ. of Rochester Press.
Richard M. "Mike" Johnston, '66
University Place, completed his second year as president of the Mason Contractors Association of America, a national trade association. He is also the longtime operator of Johnston Construction, a masonry specialty contractor in Tacoma, founded in 1966.
Thomas M. Leslie, '67
Bothell, served in the Air Force and as deputy commander of the Defense Logistics Agency's national inventory control center in Philadelphia from 1967-92. After a long military career, he worked in the printing, fiber-board container, investment and insurance fields in Seattle before "reluctantly semi-retiring."
John F. Adlard, '69, '71
Portland, Ore., was elected a shareholder in the law firm of Bullivant, Houser, Bailey, P.C., which has offices in Seattle, Vancouver, Portland, San Francisco, Sacramento and Irvine, Calif.
Christine Renhard Stenstrom, '69
Poway, Calif., is an artist and owner of Britika Fine Arts, a gallery in California. The studio specializes in contemporary art, watercolors and pastels.
Patrick E. Welch, '70, '73
Hartford, Conn., was named president of CIGNA HealthCare, one of the nation's leading health insurance and services providers. Before joining CIGNA, Welch was chairman, president and CEO of National Life Group, and president and CEO of GNA Corp.
Chris Burkhart, '71, '73
Modesto, Calif., has written a book entitled Golf A to Z: Everything You Need to Know to "Talk" a Great Game, published by Contemporary Books/McGraw Hill. It is the first book to focus on the language of golf, with more than 1,000 common terms and phrases explained to help the golfer at any level.
Robert Entenmann, '71
Northfield, Minn., professor of history at St. Olaf College, will be the Benedict Distinguished Visiting Professor in the history department at Carleton College during the 2002-03 school year.
Dalia Lapatinskas Hagan, '74
Olympia, served as president of the Saint Martin's College faculty during the 2001-02 academic year.
Frank Serafini, '75
Charlotte, N.C., joined General Electric in 1999 after 20 years with Exxon and earned a Master Black Belt in GE's Six-Sigma Quality Organization. He recently embarked upon a new career in banking as senior vice president at Bank of America's headquarters.
Charles C. Chadbourn III, '76
Alexandria, Va., is a professor of strategy at the U.S. Naval War College and has been appointed director of the college's Nonresident Graduate Degree Program. His wife, Sally Stroud Chadbourn, '74, is a reading specialist for Kennilworth Elementary School in Bowie, Md.
Kathleen Collins, '76, '78
Mercer Island, teaches at Cornish College and is an adjunct faculty member at Lesley Univ. She also taught a course last spring for the UW's School of Drama. Her husband, Andrew Elston, '77, is vice president of content and licensing for Primemedia.
Patty Longstreet Hayes, '76, '80
Olympia, was inducted into the Washington Nursing Hall of Fame in March. Since 1997, she has been director of policy, legislative and constituent relations for the state Dept. of Health.
Walter J. Apley, '77, '89
Richland, was elected to a three-year term on the national board of directors of the American Nuclear Society. The society helps develop and safely apply nuclear science and technology for public benefit. He is associate laboratory director for the Pacific NW National Laboratory's Environmental Technology Directorate.
Mike Hughes, '78
Palm Harbor, Fla., was named director of corporate accounts for Cook Group. The company designs, manufactures and distributes medical devices for diagnostic and therapeutic procedures. He has worked there for 11 years.
Crystal Carolyn Sherman, '78, '87
Philadelphia, joined the law firm of Duane Morris LLP as head of reference and Internet resources.
Kenneth D. Larson, '79
Peshastin, writes that he is "saving lives and stamping out disease" as the clinical pharmacist for the Kittitas Valley Community Hospital in Ellensburg.
Joyce Proudlock, '79
Shoreline, retired June 30 from a practice in clinical social work. She looks forward to a life of boating, gardening, reading and music and is attempting to remodel her house. She has also become involved in the U.S. Coast Guard Auxiliary.
Bob Roney, '79
Federal Way, is a management pilot for Continental Airlines, serving as a flight instructor on the Boeing 767 and 757. He has a new house near Dash Point, overlooking the east passage and Vashon and Maury islands.
You must be a member of the UW Alumni Association to be listed in the Alumnotes section. To join, call (206) 543-0540 or 1-800-AUW-ALUM, or visit UWalum.com on the Web.
Kathleen Mauro, '81
Tucson, Ariz., retired from the Army Nurse Corps and completed a Ph.D. in nursing research at the Univ. of Michigan. She recently obtained national certification as a school nurse and was honored as one of Tucson's "Fabulous Fifty" nurses.
Gilbert Hedges-Blanquez, '82
Seattle, is head librarian at B.F. Day Elementary School in Seattle. His wife, Sally, teaches second grade at Beacon Hill Elementary School. Their son, William, is a student at Garfield High School.
Patricia Cutright, '83
La Grande, Ore., received the Oregon Librarian of the Year Award from the Oregon Library Assoc. Director of Eastern Oregon University's Pierce Library since 1993, she was instrumental in establishing that institution as the hub of libraries on the eastern side of the state through the recently formed Pioneer Library system.
Kevin Schafer, '83
Seattle, is one of many artists whose work will be featured in the Watershed Art Conclusive Show, beginning Sept. 21 in Leavenworth and Wenatchee. Proceeds from the sales of original artwork will benefit fund efforts to protect natural resources and support the arts in the Wenatchee Valley. Seattle wildlife photographer Art Wolfe, '75, is also taking part.
Atsuko Brewer, '84
Walnut Creek, Calif., works for the California Dept. of Education.
Pennie Clark Ianniciello, '84
Everett, was named president of Olympic College by the Olympic College Board of Trustees after a nationwide search.
Nancy Y. Prior, '84
Lake Forest Park, was married on Feb. 2 to Colin Prior, CEO of Net Reflector.com, an online survey company. Nancy is chief financial officer at Net Reflector and PT Interactive, a Seattle software company. She has two children, Austin, 19, and Olivia, 15.
Ken Baronsky, '85, '88
Manhattan Beach, Calif., was profiled in California Law Business magazine's annual feature on the top 20 attorneys in California under the age of 40.
Patrick M. Shanahan, '85
Philadelphia, has been appointed vice president and general manager of Boeing Army Programs/Rotorcraft. He is responsible for all U.S. Army programs and supporting functional activities in Philadelphia and Mesa, Ariz. He had been vice president and general manager of Boeing's 757 programs.
Steven Takahashi, '85
Seattle, is practicing insurance defense litigation for the Allstate Insurance Co. after 12 years as a public defender in King County. He also reports that he and Nichol Chon, '01, are "in the midst of a mad, passionate romance."
Sharon Bolding, '86
Seattle, and husband Kevin Bolding, '93, announce the birth of their son, Daniel, on Feb. 26. In 1997, Sharon received her Ph.D. in medieval French literature from the Univ. of British Columbia.
Bruce N. Calonge, '86
Glenwood Village, Colo., made a career change. Formerly chairman of preventive medicine at Kaiser Permanente of Colorado, he is now chief medical officer for the Colorado Dept. of Public Health and Environment.
Mitchell Kent, '86, '94
Seattle, joined Mahlum Architects' Seattle office as an associate. A project architect focusing on education architecture, he was responsible for the Cedar Valley Community School in Edmonds, Three Cedars Waldorf in Bellevue and Northshore in Bellevue.
Jim Roe, '86
Stanwood, and his wife, Hope, welcomed their second child, Kay Ellen, on Sept. 7, 2001. He reports that she is getting along fine with her big brother Kirby, now 2.
Allen D. James, '87
Spanaway, has been married for 11 years and is the father of three young sons. He has worked in the insurance and financial services business for nearly 12 years and coaches football at Foss High School in Tacoma.
Ray Hansen, '88, '01
Bothell, worked in banking, medical and a small start-up company that initiated an agricultural development program and chain of warehouse-type wholesale-retail food centers in the Russian Far East after getting his bachelor's degree in political science. He married Terri Adams of Kokomo, Ind., and returned to the UW to earn a degree in aeronautics and astronautics last year. He now works for General Dynamics Space Propulsion Systems in Redmond on rocket and satellite propulsion systems.
Stephen D. Dukes, '89
Camano Island, was named a Fellow by the board of directors of the Inst. of Electrical and Electronic Engineers Society.
Jennifer A. Stoloff, '89
Washington, D.C., has worked as a social science analyst for the U.S. Dept. of Housing and Urban Development since 1999. She completed her Ph.D. in sociology from the Univ. of North Carolina at Chapel Hill in May.
You must be a member of the UW Alumni Association to be listed in the Alumnotes section. To join, call (206) 543-0540 or 1-800-AUW-ALUM, or visit UWalum.com on the Web.
Dawn Rosenberger Schafer, '90
Cheney, received her M.B.A. from Gonzaga Univ. She was a candidate for Beta Gamma Sigma, a business honor society acknowledging the top 20 percent of the graduating class. Dawn is currently vice president of Data & Voice Consulting in Spokane.
Alex Efird, '91
Seattle, will soon complete his residency in internal medicine at the UW and begin work at Minor & James Medical. He lives in West Seattle with his wife, Sharon Sun, a professor at Seattle Univ., and their 2-year-old daughter Emily.
Christopher James Halter, '91
Santa Catarino Palopo, Guatemala, lives and works in Guatemala as the founder and field director of Christians Respecting Indigenous Societies. The organization teaches and provides primary health care with an emphasis on prenatal care. It also aids economic development through vocational training.
Robert C. Rice, '92
Oceanside, Calif., was deployed to the Mediterranean Sea and Arabian Gulf in support of Operation Enduring Freedom. He is a Marine Corps captain whose unit has conducted raids against Taliban and Al-Qaeda forces in Afghanistan. He has also worked to complete humanitarian and civic projects in coastal areas of Kenya.
Ethan Fowler, '93
Warrenton, Va., completed his second year as sports editor for the Fauquier Citizen in May. In June, he celebrated his third wedding anniversary with his wife, Mardene. A competitive swimmer in his Husky days, Ethan recently returned to competition with his wife on a master's team.
George W. Gagnon III, '93
Hayden, Idaho, was promoted to the felony property-targeted offenders program prosecution team in the Spokane County Prosecutor's Office.
Michael S. Ansley, '94
Merritt Island, Fla., graduated with his master's in science of information systems from the Univ. of Central Florida.
Shari Dorotik Hallahan, '94
Kirkland, married husband Mike in September 1999. They enjoy traveling, home improvement and gardening. Shari works in sales at Terabeam, a free-space optics company in Kirkland. She and her husband recently traveled to Italy.
Kathleen Kingman, '94
Sparks, Nev., is a nursing supervisor at St. Mary's Hospital in Reno, Nev.
Mari Moon Hurley, '95
Silverdale, and her husband, Rob, are expecting their first child in January and plan to move back to the Seattle area.
Robert Kocher, '95
Arlington, Va., is excited about his marriage to Cindy Chen, '94, completing his medical residency, starting work for McKinsen & Co., and moving to Washington, D.C.
Maribeth Macabata, '95
Seattle, was married on March 3 to Anthony Ray Martin. Her new name is Maribeth Martin.
Jeff Manning, '95
Las Vegas, is a business development and marketing manager for the Penta Building Group, and is working to bring national retailers into the area's new Fashion Show Mall. He was "discovered" by a talent agent after moving to Nevada and modeled for the cover of both Elle and Las Vegas magazines before enjoying a brief role on the WB television series The Strip. He currently lives with his fiancÚ, Jennifer, and their two pug dogs.
Robert L. Jordan, '96
Renton, is senior software engineer/manager for dB Systems, a company specializing in high reliability avionics and certified software design. He previously worked in communication systems and software design at Boeing. He notes that his mother recently died.
Wendy Roullier, '96
Everett, is still working in the UW's housing and food services department. She and her husband, Doug, who were married in 1998, have a 2 1/2-year-old daughter, Niko, and a 15-month-old son, Jeffy. Wendy hopes to return to school someday to become a special education teacher in an elementary school.
Summer Cutting, '98
Anchorage, Alaska, has worked as a family nurse practitioner at the Family Medicine Clinic at Alaska Native Medical Ctr, since November.
Aaron Fox, '98
Seattle, was accepted to the Portland State Univ. engineering geology master's program.
Kellyann Hussey, '98
Tacoma, is the mother of a beautiful and talented 8-year-old. She went on to receive teacher certification and a master's in teaching degree from City Univ. in 2000. She has spent two years teaching language arts and social studies at Woodbrook Middle School in Lakewood.
Melissa Larsen, '98
North Bend, passed the exam to become a certified financial planner.
Allen R. Sandico, '98
Seattle, is a chevalier in the Sovereign Military Order of the Temple of Jerusalem, a United Nations-sanctioned non-governmental organization. Based in Switzerland, the group provides charitable and educational assistance to Christians living in Jerusalem.
Cindi Mack Ernsdorff, '00
Duvall, graduated in June with her master's degree in applied behavioral sciences and systems counseling from the Leadership Institute of Seattle/Bastyr Univ., "and doing so while raising five physically, mentally and neurologically challenged children-and as a single mom," she writes.
Kristen Harrell, '00
Seattle, is a resident director at the UW. Beginning this academic year, she will move from McMahon to Mercer/Stevens Court. She was part of the planning committee for Operation Husky Stadium, a program for the residence hall students.
Elaina S. Foley, '01
Coupeville, works as a research technician in the UW botany dept. in Professor Rose Ann Cattolico's lab. She says going to the UW "was an adventure for me. It was the most fulfilling experience I'd ever had."
Natacha Chough, '01
Camas, is employed at NASA's Jet Propulsion Lab, working on planetary protection for the 2003 Mars Exploration Rover mission. "Thanks, UW, for helping me get to where I am-I had some outstanding teachers," she writes.
Amie Rang, '01
Sumner, welcomed 8-pound, 4-ounce daughter Adeline "Adie" Lucretia Rang on Jan. 18.
Sherry M. VanMondfrans, '01
Bothell, is a glass chemist at Spectrum Glass in Woodinville.
Kyle L. Wright, '01
Lakeland, Fla., traveled the U.S. and Canada during his first job after graduation as a program manager for the Bureau of Education and Research. He plans to move to Los Angeles to explore a career in the entertainment industry.
You must be a member of the UW Alumni Association to be listed in the Alumnotes section. To join, call (206) 543-0540 or 1-800-AUW-ALUM, or visit UWalum.com on the Web.
---
Submit a Class Note
Tell us what major events have happened in your life: a new job, marriage, children, retirement, advanced degrees, you name it.

Submit an Obituary
Please let us know if a UW alumnus has died. Be sure to include date of death, place of death and age along with the UW class year (if known).

Update Your Records
Moving soon or know someone else who has? Let us know so that we can keep Columns coming to you.

Contact Information
Columns Magazine
1415 N.E. 45th Street
Seattle, WA 98105
Phone: (206) 543-0540
Fax: (206) 685-0611.
E-Mail: columns@u.washington.edu