Briefings
Injured Husky May Breathe on His Own
Former Husky safety Curtis Williams is being weaned from a ventilator, which has assisted his breathing since his spinal injury during a football game last October. Williams, 23, injured his spinal cord during a helmet-to-helmet collision with Stanford running back Kerry Carter on Oct. 28.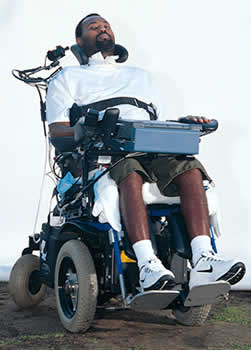 ---
Curtis Williams photographed in his brother's home in Clovis, California. Photo by Paul Mullins.
---
On June 6 Williams underwent a rare surgical procedure at the Stanford Medical Center intended to allow him to breathe without a ventilator. On July 5 doctors began to gradually take him off of the ventilator. Williams, who may eventually be able to breathe without the aid of a respirator, still requires 24-hour care. He currently lives in Fresno, Calif., his hometown, with his brother David, his sister-in-law Chris and the couple's two daughters, Jessica and Kim.
While Williams is covered under the NCAA's catastrophic coverage policy, worth up to $20 million in lifetime benefits, the insurance does not entirely cover home health care. The NCAA's policy provides 72 hours of home nursing per week, leaving David Williams and other family members responsible for the remaining 96 hours of care.
The Curtis Williams Fund—created last November to support Williams with his long-term care and to assist with expenses over and above those covered by family, UW and NCAA catastrophic injury insurance—has raised more than $321,000 as of mid-August. Alumni and fans can still help by making a donation to: Curtis Williams Fund, c/o University of Washington, 1200 Fifth Ave., Suite 500, Seattle, WA 98101.