Multicultural Alumni Group Honors Five
A retiring University administrator who oversaw outreach programs for minority students, a Washington tribal leader who helped his tribe develop numerous business operations, and a local chamber of commerce official dedicated to creating jobs in low-income areas are some of this year's alumni and friends who will receive awards at the Multicultural Alumni Partnership's "Bridging the Gap" breakfast on Oct. 20.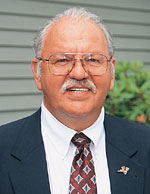 ---

William "Ron" Allen. Photo by Dave Logan.

---
Distinguished Alumnus Awards will be presented to: William "Ron" Allen, '83; Michael Hurtado, '74, '75, '78; Herman L. McKinney, '69; and Susan K. Tomita, '70, '95. Myron Apilado, the retiring UW vice president for minority affairs, will receive the Dr. Samuel E. Kelly Award.
The Multicultural Alumni Partnership supports recruitment and mentoring of students, faculty and staff of color, while promoting diversity within both the UW and the UW Alumni Association. The group also awards student scholarships.
Allen has been tribal chairman of the Jamestown S'Kallam Tribe in Sequim since 1977. Under his guidance, the tribe has overcome financial difficulties to operate on an annual budget topping $6 million from revenues generated through the establishment of business enterprises, including a seafood operation, an art gallery, real estate ventures and a tribal casino. Allen, who received a double B.A. degree in political science and economics, is also co-chairman of the National Congress of American Indians/National Council of State Legislators Advisory Committee.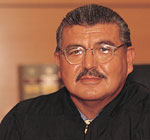 ---

Michael Hurtado. Photo by Jon Marmor.

---
Hurtado, a Seattle Municipal Court judge, is renowned for his work with students, mainly through a program he created to teach students of all ages about the court system. A former teacher at Garfield High School, he is a well-known volunteer in elementary, middle and high schools in the Seattle area, talking with students about the consequences of their decisions. Hurtado received his B.A. in industrial design and a law degree from the UW.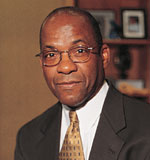 ---

Herman McKinney. Photo by Jon Marmor.

---
McKinney, vice president for urban affairs for the Greater Seattle Chamber of Commerce, has worked with business and community leaders to create jobs that have enabled thousands of people to get off welfare rolls. To date, the chamber's Urban Enterprise Center, which McKinney heads, has found employment for more than 6,000 residents of the Central Area and Rainier Valley. A 1969 recipient of a master's of social work degree from the UW, McKinney is also a former assistant dean in the UW Graduate School.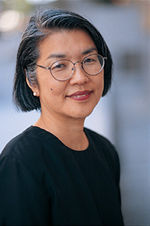 ---

Susan K. Tomita. Photo by Jon Marmor.

---
Tomita, associate director of social work at Harborview Medical Center, has long been active in Seattle Asian-American community issues. She was one of the founders of the Asian Counseling and Referral Service, which provides mental health and other social and health services to Asian immigrants and refugees. Tomita, who has an M.S.W. and Ph.D. from the UW, also helped found the Asian Community Health Clinic, Filipino Drop-in Center and Asian Social Workers of Greater Seattle, among many others.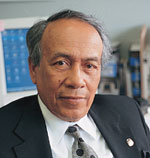 ---

Myron Apilado. Photo by Jon Marmor.

---
Apilado, who retired in June, spent 12 years heading up the UW's Office of Minority Affairs. Under his guidance, the UW greatly expanded outreach programs and financial support for students of color and those from disadvantaged backgrounds. Programs such as Gear-up, McNair, Talent Search, Upward Bound, Student Support Services and the Bridge Program all took root during Apilado's tenure.

Alumni and friends are invited to the MAP awards breakfast, held during Homecoming at 8 a.m., Saturday, Oct. 20 in the HUB Ballroom. For reservations, call (206) 543-3839. For more information on the Multicultural Alumni Partnership, call (206) 543-0540 or 1-800-AUW-ALUM.