Briefings
Young Dawgs Look to Create New Glory
After finishing last year at number three in both national polls, Husky football has soared back into national prominence, but Husky Football Coach Rick Neuheisel, who has led Washington to an 18-6 mark in two seasons, isn't basking in past glory. "Last season was a wonderful memory and something we all ought to cherish, and will cherish for a lifetime, but it's a memory," he said. "Now it's, 'What have you done for me lately?' "
Fresh off an impressive 11-1 season capped by their 2001 Rose Bowl victory over Purdue, a young group of Dawgs will strive to stay on top. This year's squad definitely has the talent—if not the experience.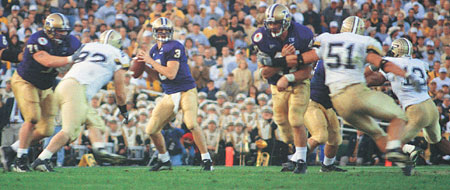 ---

Cody Pickett, who gained valuable experience under fire in the 2001 Rose Bowl, takes over the Husky quarterback's job after the departure of Marques Tuiasosopo. Photo by Jon Marmor.

---
The Huskies, ranked 14th in the pre-season ESPN/USA Today Coaches Poll, return 51 lettermen, including 25 on offense, 24 on defense and two kickers. Their biggest challenge will be filling the shoes of last year's quarterback, Marques Tuiasosopo, '01. Sophomore Cody Pickett has emerged as Tui's successor. "I thought Cody Pickett played real well," Neuheisel said of his performance in the Huskies' spring practice game. "I think that he is very talented and will become a big-time player for us."

Success will require a balanced effort this season, and Pickett will have plenty of help at the skill positions. Washington returns its top three wideouts, including senior Todd Elstrom (47 catches for 683 yards). The addition of highly touted recruits Reggie Williams and Charles Frederick, the return of Chris Juergens and newly converted receiver Paul Arnold give the Huskies their deepest group of pass-catchers in decades. As if that wasn't enough, Pickett has one of the top offensive weapons in the country, All-American tight end Jerramy Stevens.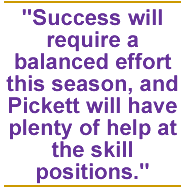 The Huskies also return an experienced group of running backs, highlighted by sophomore Rich Alexis (6.3 yards per carry, 9 TDs) and senior Willie Hurst. However, with the loss of NFL draftees Chad Ward and Elliot Silvers, Husky backs will depend on a very young offensive line to clear the running lanes.
Senior defensive tackle Larry Triplett, another All-American, will lead an improving defense that includes junior linebacker Ben Mahdavi and sophomore safety Greg Carothers, both returning starters. The kicking game should be solid with the return of junior John Anderson (12-17 FG, 74 points) while true freshman Derek McLaughlin should take over punting duties.
Once again, the Pac-10 will be one of the most competitive conferences as Oregon, Oregon State and UCLA could achieve top-10 status. The Huskies don't play the Ducks this year but trips to UCLA and Arizona State could decide Washington's success. Washington can't rely on its early games for easy wins—this year's non-conference contests provide little relief as the UW starts off hosting Michigan, then travels to the Orange Bowl for a rematch with a highly ranked Miami team.
In all, the Huskies have one of the toughest schedules in the country, including five opponents ranked among the top 25 in most pre-season polls. However, Neuheisel says his team is ready for a new challenge. "It is important if you enjoyed last year, and you enjoy that ride and that climb and culmination, then you really ought to set your sights on not just duplicating it, but going above and beyond it this year."
Sept. 8 Michigan
Sept. 15 at Miami
Sept. 22 Idaho
Sept. 29 at California
Oct. 6 USC
Oct. 13 at UCLA
Oct. 20 Arizona
Oct. 27 at Arizona State
Nov. 3 Stanford
Nov. 10 at Oregon State
Nov. 17 Washington State