Holiday Fair Helps Deserving Huskies
Amy Haase had known difficult times before. After two years of studying flight technology at Central Washington University, she decided that it wasn't for her. So she took two years off from school, got married, and worked to pay off some personal debts before resuming her studies.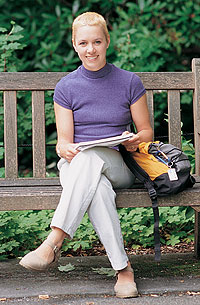 ---

Despite staggering medical bills, UW senior Amy Haase was able to keep her UW education going thanks to a full-tuition scholarship she received from the Alumnae Board. Photo by Jon Marmor.

---
With finances still tight, she spent a year at Bellevue Community College before transferring last year to the University of Washington. She was thrilled to be here and start studying atmospheric sciences, where she could combine her love of weather, physics and calculus. She already set her sights on graduate school.

Then, last October, she was diagnosed with breast cancer. Surgery, chemotherapy and radiation followed—along with staggering medical bills that could have derailed her education.

But acting on a friend's advice, she applied for a scholarship from the Alumnae Board. "I figured I needed some assistance," Haase, 26, recalls. This spring, she was awarded a full tuition scholarship, which will allow her to keep her dream alive.

"This scholarship means so much to me," the Washington native says. "Having the Alumnae Board support me means I don't have to worry about money for school, and that is a huge relief, given all of my medical bills."

Alumni can help the board raise money for student scholarships by attending this year's Holiday Fair, an arts and crafts show held Sept. 28-29 at Sand Point Magnuson Park, formerly known as Sand Point Naval Station.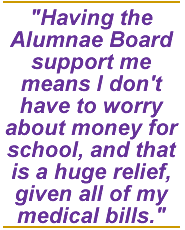 More than 140 artisans and craftsmen will display their wares at the fair, which will raise enough money to fund more full-tuition scholarships for students who otherwise might not have a chance to continue their education.
The fair will feature everything from holiday decorations and Husky collectibles to clothing and jewelry. Also on sale will be the Alumnae Board cookbook, featuring recipes from such famous people from the UW community as former NBA star Detlef Schrempf, '85, former Washington Gov. Dan Evans, '48, '49, and 1950s TV star Stan Boreson, '50.
Since 1920, the Alumnae Board has provided scholarships to promising UW students. This year, the Alumnae Board gave out 28 full scholarships, thanks to proceeds from the Holiday Fair and a $500,000 gift from Alumnae Board member Kathy Acheson Connors and her husband, John. Only the UW Athletic Department awards more scholarships.
This year's Holiday Fair will run from 10 a.m. to 7 p.m. on Friday, Sept. 28, and from 10 a.m. to 6 p.m. on Saturday, Sept. 29. Admission is $6, with discounts for UWAA members, seniors over 65 and for those who pick up coupons at University Book Store locations and in the Seattle Times.
To get to the Holiday Fair, use the NOAA entrance to Sand Point Naval Station at 7400 Sand Point Way N.E., Seattle. Follow the signs to Hangar 2. Parking is free and plentiful. For more information about the Holiday Fair, contact the UW Alumni Association at (206) 543-0540 or 1-800-AUW-ALUM.