Extras
John Eyler
During one of the rare moments when he has time to sit in his office in Paramus, N.J., Toys "R" Us CEO and President John Eyler, '69, can see one of the first toys he ever received, hanging from the wall. His uncle gave him the toy, a handmade, hand-painted stick horse, when he was only two or three years old. While the 50-year-old stick horse still holds a place in Eyler's heart, it is a far cry from the complexities and capabilities of the high-tech gizmos he sells today.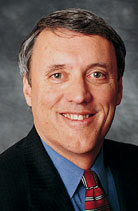 Since his arrival at Toys "R" Us in January 2000, after serving as chairman and CEO of upscale toy retailer FAO Schwarz, Eyler has made sweeping changes, including a renewed commitment to customer service through store redesign and increased employee training.
In addition, Eyler applied one of FAO Schwarz' trademarks to his newest company: toy exclusivity. In two years Toys "R" Us has increased its number of exclusive toys by 400 percent. As of May, Toys "R" Us was the number two toy seller in the world, and Eyler is confident that he can help the company reach its potential as the premier retailer for toys and children's products.
Eyler, who earned a business degree in finance at the UW, has made a career of climbing the corporate ladder quickly. He began his retail career at the May Department Stores Co. and was named its president and CEO by age 32, then moved on to FAO Schwarz in 1992.
Growing up in Washington, Eyler says he was always a Husky fan and he just assumed he would go to the UW. He has no regrets about his experience. "I loved that (the UW) was able to break it down, to make it feel like a personal education," he says.
While life on the East Coast is a departure from Eyler's West Coast origins, the Mercer Island native still has reason to think of the Pacific Northwest as home—his mother lives in Bellevue while his in-laws live in Olympia. In fact, Eyler started his own family right here at the UW, where he met and married his wife Dolores, '71, while they were undergraduates.
Although he leads an extremely busy life, Eyler frequently visits his old stomping grounds. He has given talks at the UW business school and, in July, Eyler was in Seattle for the 2001 All-Star Game. Toys "R" Us sponsored a nationwide baseball skills competition for kids that concluded at Safeco Field. Eyler may have been just as excited as the competitors.
"I'm still a kid, but in an older person's body," he says. Judging by his career path, this "kid" turned an early interest in toys into an ultra-successful career. —Mike Cane