New Breed of Dawg to Lead Alumni
When John W. "Jack" David assumed the presidency of the UW Alumni Association on Sept. 1, he broke a 112-year tradition for the organization—he heads the alumni group but is not a graduate of the University of Washington.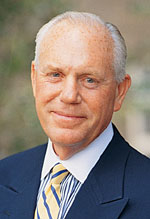 ---

UWAA President Jack David. Photo by Jon Marmor.

---
It's not that David doesn't have strong connections to the UW. He spent his first two undergraduate years here (he would have been Class of 1965 had he stayed), was a walk-on for the freshman football squad, played on the UW's first varsity soccer team and even met his wife, Joy, '65, at the UW. Both his children are UW alumni as well.

I have always had a love for the University of Washington," says the retired banking executive, who lives on Vashon Island and is a 1967 graduate of Seattle University.

David represents a class of former students who are often ignored at American universities—those who attended but for personal or financial reasons had to withdraw before graduating.

At the University of Washington, such forgotten ex-students include martial arts superstar Bruce Lee, Hollywood actress/director Dyan Cannon, U.S. Congressman Joel Pritchard and Westin Hotels/United Airlines CEO Edward Carlson. Carlson, by the way, was named the 1970 Alumnus Summa Laude Dignatus, the highest honor the UW bestows on its former students, even though he never graduated. The UW Alumni Association also recognizes contributions by non-graduates by offering full member benefits to anyone who has completed at least 15 UW credits.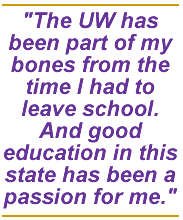 Looking over David's distinguished career and extensive public service, he belongs in this impressive group of former UW students. He spent 27 years at Seafirst Bank and then its new owner, Bank of America. At the end of his career, he was executive vice president and director of retail marketing for the nation's largest bank, which at that time had 10 million customers, 100,000 employees and branches in 38 countries.
David's expertise in public relations and marketing grew out of his varied experiences with other industry leaders as well. He started his working career as a copy boy for the Seattle Post-Intelligencer's legendary sports columnist, Royal Brougham. He held key positions with Fisher Broadcasting, the Ehrig and Associates ad agency, and Key Bank as well. His community service includes membership on the foundation boards for the Pacific Science Center and Providence Hospital, the board of directors for Seafair and the Communities in Schools and as a regent for Seattle University. He has also served as a volunteer for the American Heart Association, the Arthritis Foundation and the Museum of Flight.
David has kept strong connections to the University. As director of marketing for Seafirst, he convinced the UW to allow advertising in Husky Stadium. "The University was not totally sold on the idea and I had to go in front of the Board of Regents to make a presentation," David recalls. "We did set the precedent that allows corporate America to come in and help the University." For his pioneering support of the athletic department, then-Athletic Director Joe Kearney gave David a Gold Helmet Award. David also helped convince his bank to finance the Seafirst Executive Education Center during the UW's first major fund drive, in the 1990s.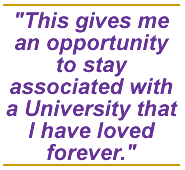 David's service to the UW Alumni Association includes chairing the Columns Advisory Committee for two years and serving on the UWAA board from 1993 to 1994. When Bank of America assigned him to its corporate headquarters in San Francisco, he had to withdraw from the board, but rejoined the alumni governing structure in 1999 when he returned from the Bay Area. David served as UWAA vice president during 1999-2000 and president-elect in 2000-01.
His goals for the coming year include increasing membership, strengthening the legal agreement between the association and the University, finalizing plans for a new Alumni House, increasing awareness of the UWAA and its brand, and making Husky Career Advantage, the alumni career services program, fully operational.
David says he is honored to lead the organization that represents 350,000 living UW alumni. "The UW has been part of my bones from the time I had to leave school. And good education in this state has been a passion for me," he says. "This gives me an opportunity to stay associated with a University that I have loved forever."