Association News
Politics, Power and Policy: Fall Lecture Series Explores Democracy
George W. Bush vs. Al Gore. John Carlson vs. Gary Locke. Tim Eyman vs. mass transit. With the November election just two months away, the UW is offering its alumni and friends new ways to understand the American political process as the UW Alumni Association and College of Arts and Sciences co-sponsor the Fall Lecture Series, "We the People: Americans Experience Democracy."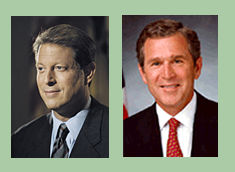 ---

As Vice President Al Gore (left) and Texas Gov. George W. Bush (right) face off in the fall elections, the UWAA and College of Arts and Sciences are presenting a lecutre series on American democracy. Gore photo courtesy Gore 2000. Bush photo courtesy Bush for President.

---
Beginning Oct. 4, the series will feature lectures on five Wednesdays leading up to the Nov. 7 election. Events will include lectures, panel discussions and public forums by UW faculty and other experts. The series is presented with the support of PEMCO and Millstone Coffee.
On Oct. 4, Political Science Professor Christine DiStefano, Sociology Professor Charles Hirschman and other experts will hold a panel discussion on evolving demographic groups in the U.S., and how the changing population influences elections and public policy.
On Oct. 11, Communications and Political Science Professor Lance Bennett will address the influence of the media in elections in his lecture, "The Media and American Politics: Whose Messages? Whose Messenger? Who Listens?"
The Oct. 18 session will feature Eugene Webb, professor of comparative religion and comparative literature, on the role of religion in politics. In his talk, "The Ironic Road to the New Jerusalem," he will discuss how politics and policy are shaped by religion in a nation that officially separates church and state.
Political Science Professor Mark Smith will give an overview of the initiative process in his Oct. 25 lecture titled "The Changing Politics of Ballot Measures." He will look at a century of ballot measures and discuss who benefits from these initiatives. Smith will also explore which is more democratic—making policy through initiatives or through elected representatives.
At the final lecture, on Nov. 1, Political Science Professor Bryan Jones will discuss, "The Consequences of Elections for Public Policy." How does the outcome of an election determine what and how public policy is crafted?
The Fall Lecture Series will be held in 120 Kane. Series tickets cost $35 for UWAA or Arts and Sciences Dean's Club members, $45 for non-members and $10 for students. Single tickets may be purchased after Sept. 27 or at the door, if available. For reservations, call the UWAA at (206) 543-3839. For more information on the series or to join the UWAA, contact the alumni association office at (206) 543-0540 or 1-800-AUW-ALUM.