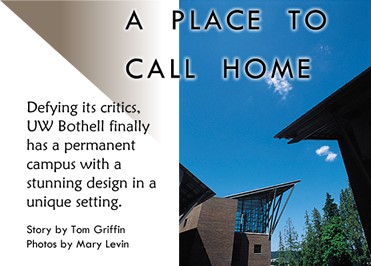 You might liken it to a Hollywood tale, complete with heroes, villains, sudden plot twists and a happy ending. With all the hardships and detours along the way, our story might even deserve the title of a summer blockbuster—Mission: Impossible. But after 10 years in the making, the final reel is ready to run, and on Sept. 25 the doors will open at the permanent site of the University of Washington Bothell.
The setting for this epic is a sylvan hillside on one of the last undeveloped pieces of property in the "high-tech corridor" northeast of Seattle. A set designer couldn't ask for a more dramatic locale: Douglas fir trees tower 100 feet into the air on a ridge overlooking one of the most ambitious wetlands restoration projects in the Pacific Northwest.
Among these century-old trees, three buildings nestle into the hillside, clad in a rich brown brick that blends with the natural setting. Each structure has a dramatic sloping roof that juts beyond the edge of the building, creating an overhang supported by steel struts—a deliberate reference to the massive timbered lodges found among the lakes and mountains of the Pacific Northwest.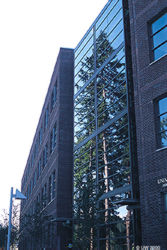 ---

One of the campus' 100-year-old Douglas fir trees is reflected in the new glass of the UWB building.

---
The southernmost building serves the nearly 1,500 juniors, seniors and graduate students who attend UW Bothell to get degrees in liberal studies, nursing, business, computer software and education. To the north is the home of a brand-new institution, Cascadia Community College (CCC), which offers innovative courses for freshmen and sophomores leading to an A.A. degree as well as technical and vocational programs. Between the two is a shared facility that houses the library, media center and student services.
"I love this plan," says UWB Chancellor Warren Buck. "It's incredible. It's dynamic. The whole look gives me a sense of freedom and creativity."
While the final outcome is getting raves, there were times when opponents of satellite campuses called UW Bothell a flop. At one point in its history, a powerful state senator tried to close UWB. Two years later, the governor proposed taking it away from the UW and making it an independent, four-year institution. Even the site was controversial. This was not the place the UW intended to build its third campus, and its original plans never considered sharing a site with a community college.
Go To: Page 1 | Page 2 | Page 3 | Page 4