From the President
It Takes a Campus
Here's one definition of a university: the sum of many leaps of faith.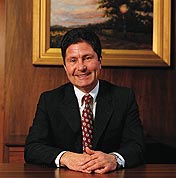 ---

UW President Richard L. McCormick. Photo by Mary Levin.

---
In 1895, a quite astonishing leap of faith brought the young University of Washington out of "downtown" Seattle, where cows were intruding on the original campus, onto a huge tract of wilderness in the far suburbs—our present Seattle campus. One of my earliest and most pleasant duties as UW president was helping celebrate the 100th anniversary of that move. From a single building in the woods, Denny Hall, the campus has grown into a beautiful complex of structures and open spaces, shaping itself around new programs, new students, new societal goals.
Three years ago, UW Tacoma opened a handsome urban campus that has helped revitalize a once-declining portion of that city. And now, another opening, another show: this month we dedicate the leafy new permanent campus of UW Bothell, co-located with Cascadia Community College on the former site of the Truly Farm.
But do we really need these campuses? Given the explosion of educational technology, with instant online access to instruction and information, is a college campus now merely an anachronism? Will we one day marvel at its expensive grandeur, the way we now tour empty castles and villas?
I don't think so. Oxford University, after all, has watched castles come and go, and has kept right on filling its ancient buildings with new students. As long as we are social beings, and as long as we find meaning in our physical surroundings, I think the college campus will remain central to higher education. Certain kinds and phases of education may happen better elsewhere. But the campus will endure, a place where students and scholars come together to energize, inspire, and change one another, and where the shaped environment both nurtures and symbolizes learning.
Two hours last June reinforced my convictions about all this. In our annual Recognition Ceremony, a couple of days before commencement, the UW paid tribute to some of its most distinguished teachers, staff, alumni, and students. I was deeply impressed, as always, by the achievements and the range of these individuals. I was also struck by how many of them, in receiving their awards, spoke of their feeling for this place and for the work and people it brings together.
The last three recipients spanned more than 50 years of education on this campus. UW alumnus and Regent William H. Gates, '49, '50, whose legal career and civic contributions to this region are monumental, received the Recognition Award. In a moving response, he remembered the UW class "in which I became a thinking person"—a 1943 psychology class, taught by a man named Wilson. Next came the young recipient of the President's Medal for scholarship, a graduating biochemistry and math student (and decathlon competitor) named Mike Macpherson, '00. He aimed some affectionate jibes at Professor Tom Daniel, in whose lab Mike had done ambitious research and who was in the audience to cheer him on. And the last award, the Alumna Summa Laude Dignata, went to Rita Colwell, '61, who still remembers her first, magical sighting of Mount Rainier from the steps of Parrington Hall. In 1961 she became the first woman to earn a UW Ph.D. in oceanography, and she is now the first woman to head the National Science Foundation. Her graduate mentor, Professor Emeritus John Liston, was also in the audience and rose to acknowledge her tribute.
For these three graduates, it seemed clear, the richness of their educational experience was tied to particularities of time and place and, above all, people. Could a "virtual" university duplicate that richness? I'm a big fan of educational technology, but I don't think so. It takes a campus, to paraphrase the familiar adage about raising children.
So three cheers for the new Bothell campus and for the public officials and UW planners who made that leap of faith. UWB will now have a strong physical identity to match the strength of its faculty and the ambitions of its programs. Years from now, its eminent alumni will be telling stories as inspiring as those I heard in June.

Richard L. McCormick, President