Briefings
Record Gift Helps Students Pursue Nursing Careers
Bob and Jean Reid of Bellingham made a $5 million deferred gift to the University of Washington School of Nursing—the largest gift in the school's history, the UW announced May 16.
Bob, '48, and Jean Reid, '47, are longtime UW benefactors and singled out the School of Nursing for this award as a tribute to the excellent nursing care each of them has experienced.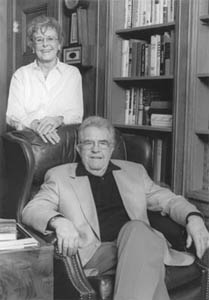 ---

Bob, '48, and Jean, '47, Reid, donors of $5 million to the UW School of Nursing.

---
The couple directed their gift to a charitable remainder annuity trust—a life income plan that will pay the Reids a fixed income for the trust's eight-year duration. At the end of the eight-year term selected by the Reids, the trust assets will fund the Robert and Jean Reid Endowed Fund. This endowment will provide full scholarships for undergraduate and graduate nursing students who otherwise would not be able to afford a nursing education. The gift comes at a critical time, says Nursing Dean Nancy Fugate Woods.
"This year, the school increased its undergraduate admissions and expanded its graduate program in response to the local and national nursing shortages. Not only will the endowment provide opportunities for more students to pursue nursing careers, it will ultimately make a tremendous difference in the communities these students will one day serve," says Woods.
The Reids lived in Bellevue from 1947 to 1988. Bob Reid started and operated Reid Sand & Gravel for many years.
Jean Reid states that she and her husband have always been "impressed with the devotion nurses have to their profession." Both the Reids have required hospitalization in recent years. They understand that without financial assistance, many bright, talented and personally committed individuals—such as those who provided the Reids' care—would be unable to pursue their dreams of a career in nursing.
Jean Reid recently observed some of the teaching strategies that have contributed to the UW School of Nursing's number one ranking in the country for the past 14 years. "The specialized training in the school's learning labs is not unlike a real hospital where teams of nurses care for patients," she observes. "Clearly, there is important work taking place here."