Briefings
Huskies Tagged to Finish Near Top in Neuheisel's Second Season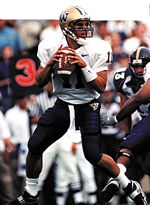 ---

Quarterback Marques Tuiasosopo heads the Huskies' offense. Photo by Joanie Komura, Husky Media Relations.

---
What a difference a year makes. After sports commentators picked the Huskies to finish no better than sixth in the Pac-10 last season, the team silenced its critics by posting a 6-2 conference mark and a second place finish, just missing a berth in the Rose Bowl.
This year's team will not have the luxury of sneaking up on the competition. Led by second-year Coach Rick Neuheisel, the Huskies finished the 1999 season with a 7-5 record, falling just short of upsetting Kansas State in a 24-20 loss in the Holiday Bowl. Tabbed the early favorites to capture the Y2K Pac-10 crown, Coach Neuheisel warns Husky players and fans not to get caught up in the preseason hype.
"If they are picking you near the top, then that means there are some good things happening," Neuheisel says. "You have to make the team understand that does not mean they have accomplished anything yet. Predictions are on paper. Winning it, that's real."
As starting quarterback Marques Tuiasosopo goes, so will the Huskies. An All-Pac-10 second-team selection in 1999, he set a Washington single-season total offense record with 2,762 yards and will need to be the driving force behind any championship run.
Last year's surprising performance has only intensified the pressure to succeed. Borrowing from Charles Dickens, Neuheisel remarked that expectations can lead to either the "best of times" or "worst of times."
"We have a lot of work to do. We have a great schedule ahead of us with a lot of competitive teams. We know who we are, if we coach well and the players play hard. If we set the standard of how we play in the fourth quarter, we are going to have an exciting time and be in the race again in November," he explains.
The team returns 52 letterwinners, including eight starters on offense and seven starters on defense as well as a handful of All-Pac-10 and All-American performers. Among those returning players are Tuiasosopo, running backs Willie Hurst and Paul Arnold, tight end Jerramy Stevens, as well as defensive veterans Larry Tripplett, Jeremiah Pharms, Anthony Vontoure, Hakim Akbar and placekicker John Anderson.
Alumni activities associated with fall games include Oktoberfest held prior to the Oct. 7 Oregon State-UW game, Homecoming with its class reunions held around the Oct. 21 Cal-UW game, and Washington Warm Ups held prior to all away games. For more information, look at the Football 2000 page on the UW Alumni Association Web site, or call 1-800-AUW-ALUM.