Milestones
APPOINTMENTS

Gov. Gary Locke appointed senior John W. Amaya to the UW Board of Regents on May 11. Amaya, a political science major from Seattle, will serve as the student regent for the 2000-2001 term. He is also director of the ASUW La Raza Commission and a member of the President's Advisory Committee on Diversity. Amaya replaces Christopher Knaus, whose term expired May 31.
The new dean of the College of Architecture and Urban Planning is Robert Mugerauer, a former professor at the University of Texas at Austin's School of Architecture, effective Sept. 1. Mugerauer, two-time winner of UT-Austin School of Architecture's Outstanding Teacher Award, is described by President McCormick as "both a scholar and visionary leader." Mugerauer replaces former Dean Jerry Finrow, '64.

Patricia Wasley became dean of the College of Education on Sept. 1. Formerly dean of the Graduate School of Education at Bank Street College in New York, Wasley has served as a senior researcher for school change at both the Coalition of Essential Schools and Annenberg Institute of School Reform at Brown University. She has also been project director with the Puget Sound Educational Consortium. Wasley replaces former Dean Allen Glenn.
DEPARTURES
Myron Apilado, vice president for minority affairs at the UW since 1990, announced his intention to leave that position by the end of the year. In his 10 years as vice president, Apilado greatly expanded the resources and support services for recruiting and retaining underrepresented minority students. A national search for the new vice president for minority affairs is under way.
Burke Museum Director Karl L. Hutterer resigned May 3 to become executive director of the Santa Barbara Museum of Natural History. During his 11 years with the Burke, Hutterer increased contributions to the museum as well as its visibility in the community. Longtime Assistant Director Roxana Augusztiny will serve as acting director until a search committee identifies finalists.
HONORS
Howard Hughes Medical Institute named three UW professors among the 48 scientists selected as "investigators" for the institute. They are Biochemistry and Bioengineering Professor David Baker, Molecular Biotechnology and Computer Science Professor Philip Green, and Physiology and Biophysics Professor Michael Shadlen. Investigators and their institutions enter into long-term research collaborations with the institute, and are allowed more freedom and flexibility in their research. Between $500,000 and $1 million are spent annually on each new investigator.

| | | |
| --- | --- | --- |
| David Baker | Philip Green | Michael Shadlen |
| | |
| --- | --- |
| Stanley Fields | Sen-itiroh Hakomori |
Two UW faculty members, Genetics and Medicine Professor Stanley Fields and Pathobiology Professor Sen-itiroh Hakomori, are among 60 new members elected to the National Academy of Sciences. Fields is known for his work in protein interactions, and Hakomori is a pioneer in cancer progression research. Their selection brings the number of UW faculty members in the prestigious academy to 41.

Three UW researchers were among 182 artists, scholars and scientists selected as fellows of the John Simon Guggenheim Memorial Foundation. Wick Haxton, director of the Institute for Nuclear Theory, Zoology Professor Joel Kingsolver and Pathology Professor Larry Rohrschneider became Guggenheim Fellows based on distinguished achievements in the past and their exceptional promise for future endeavors, the foundation reported.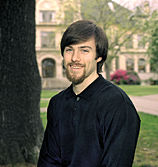 ---

"Mike" Macpherson, '00. Photo by Mary Levin.

---
John Michael "Mike" Macpherson, '00, was awarded the 2000 UW President's Medal, given to the senior with the most distinguished academic record, at the UW Recognition Ceremony on June 8. A Mary Gates Fellow and three-year track letterman, Macpherson graduated with a double degree in biochemistry and applied and computational mathematical sciences and a 3.92 G.P.A. Graduate school is a possibility, but he may take a break from course work. Regardless, "I want to keep learning," he says.