Association News
Multicultural Alumni Group Honors Seven
An artist, an athletics offical and a renowned attorney/philanthropist headline this year's outstanding class of alumni who will receive awards at the Multicultural Alumni Partnership's "Bridging the Gap" breakfast on Oct. 21.
The seven honorees fittingly represent a diverse collection of individuals, each with deep roots established across the state and in the UW community.
Distinguished Alumnus Awards will be presented to: Alfredo Arreguin, '67, '69; Ralph Bayard, '71, '77; Marilyn Bentz, '54, '84; William H. Gates, '49, '50; and David Okimoto, '72, '75. Former Seattle Mayor Norman Rice, '72, '74, and wife Constance, '70, '74, will share the Dr. Samuel E. Kelley Award.
The Multicultural Alumni Partnership supports recruitment and mentoring of students, faculty and staff of color, while promoting diversity within both the UW and UW Alumni Association. The group also awards student scholarships.

---

Alfredo Arreguin. Photo by Jon Marmor.

---
Arreguin emigrated to the United States from Morelia, Mexico and earned a Master's of Fine Arts degree in 1969. Since then he has won 19 national awards and prizes, a special humanitarian award from the state legislature, and twice been the recipient of a National Endowment for the Arts fellowship.
A renowned painter and sculptor, Arreguin has donated his talents and artwork to numerous non-profit organizations. Recently he was awarded the Ohtli, given by the government of Mexico to recognize his altruistic activity in Mexican-American communities.
---

Ralph Bayard. Photo by Jon Marmor.

---
As a senior associate athletic director, Bayard's responsibilities at the UW include overseeing six sports as well as diversity and community relations. Bayard is a Board Member of the Seattle Breakfast Club, which mentors and supports youth. He also provides opportunities for gang-impacted youth to visit the university's athletic events. As part of the Athletic Department's Community Service Program, Bayard emphasizes providing access opportunities to students of color and has done so at both the college and high school levels.

---

Marilyn Bentz. Photo by Jon Marmor.

---
Bentz is a senior lecturer emeritus in anthropology at the UW and also served as a professor in the School of Social Work. Some of her honors include a National Indian Mental Health Fellowship; a National Institutes of Mental Health Fellowship at the University of Illinois; and a Phi Lambda Theta Scholarship from the University of Puget Sound.
A member of the Gros Ventre tribe, Bentz has acted as a consultant to the National Endowment for the Humanities; the Washington Folklife Council; and the Quinault tribe in establishing alternatives to foster care for children.

---

William H. Gates. Photo by Kathy Sauber.

---
Gates is chairman of the UW Board of Regents and co-chairman of the Bill and Melinda Gates Foundation. As president of the Washington State Bar Association, the elder Gates helped create a University of Washington Law school scholarship program for students of color in 1970.
Along with son Bill, founder of Microsoft, and daughter-in-law Melinda, Gates has helped shape the Gates Millennium Scholars program, aimed at providing financial assistance to high achieving students of color in financial need. The billion dollar program will provide 1000 scholarships to students each year for the next 20 years.

---

David Okimoto. Photo by Jon Marmor.

---
While Executive Director of the Atlantic Street Center, Okimoto increased services to homeless children from 60 to 300 a year. Okimoto has served on the Seattle Public Schools' Disproportionality Committee, and has made recommendations which if implemented would reduce the disproportionate treatment students of color receive in academic achievement and disciplinary sanctions.
Founder of the Ethnic Minority Human Services Coalition, Okimoto has received countless honors including the Distinguished Alumnus Award from the UW School of Social Work, and KOMO TV and Radio's Hometown Hero Award.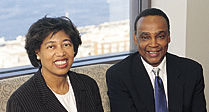 ---

Constance and Norman Rice. Photo by Jon Marmor.

---
Norman Rice is the president and CEO of the Federal Home Loan Bank of Seattle but is best known for his years as mayor. Rice earned national acclaim for revitalizing the downtown area and strengthening city neighborhoods through private-public partnerships.
A graduate of the Office of Minority Affairs Educational Opportunity Program, Rice championed an improved public school system and implemented a model welfare to work program. He is a former winner of the City of Seattle Diversity Award, which he received in 1995.
Constance Rice, president of CWR, Inc., and former Senior Vice Chancellor of the Seattle Community College District, was the first African American woman to receive a Ph.D. from the UW College of Education, Department of Higher Education. She has been recognized for her work in the community with awards ranging from the Dorothy Bullitt Humanitarian Award, to the Neighborhood House, Health, and Nutrition Founders Award.
While serving on the Board of Trustees for the Seattle Art Museum, UW Branch Campus Selection Advisory Board, and Rotary Club, Rice's commitment to service has benefited youth throughout the world.
All alumni are invited to the Oct. 21 breakfast. For reservations, call (206) 543-3839. For more information on the Multicultural Alumni Partnership, call (206) 543-0540 or 1-800-AUW-ALUM.