Letters to the Editor
September 2000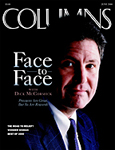 ---

Cover of June 2000 Columns

---
Law of Supply and Demand
President McCormick's interview ["Face to Face," june 2000] includes the usual platitudes about "our academic distinction" and "students' opportunities," etc. after all, a university president's primary function is public relations.
But, included with the fluff is a revelation that is not so innocuous. In discussing the hiring of the new football coach, McCormick repeats that in hiring "a chemist or a football coach ... you've got to pay market-based salaries."
In other words, all the rhetoric about the "equal opportunities" in the search for truth and beauty and ethics is largely vacuous. The truth is that the university, like society in general, is governed by the law of supply and demand. Now, President McCormick may genuinely believe that these two positions are complementary. However, there is a long educational tradition which maintains that they are contradictory. A genuine educational leader might consider promoting a real debate on the issue.
Sol Saporta, UW Department of Linguistics, Retired, Seattle
Exceptional Programs and People
Reading about Rita Colwell ["Wonder Woman," June 2000] reinforces my belief that exceptional programs and people have long existed at UW. It is great that she persevered. During my time as an undergraduate at UW (1965 -1969), I lived in McMahon Hall among many graduate students who also have achieved significant distinctions of their own. It was the presence of these talented and interesting people that made the UW experience so good for me. Just on my floor in the dorm were Don Brownlee (UW professor of astronomy), Arni Isaaksson (Icelandic fisheries expert), Tom Hinckley (UW professor of forest resources), Jerry Zakrzewski (chemist and Lockheed executive), and Kent Hines (banker).
At that time, not only were women such as Rita Colwell discouraged to enter the physical sciences, the achievements of those women in the biological sciences were often ignored. A case in point is Isaac Asimov's book, A Brief History of Biology, in which he failed to acknowledge the contributions of female scientists.
Richard E. Kangas, '69, Selma, Calif.
Foolish Choices
As an example of someone who may be helped by the UW's efforts to use technology to lessen traffic congestion, the author of "The Road to Relief?" [June 2000] chose to interview someone who, in fact, is among the greatest causes of congestion. Walter Neary lives 40 miles from where he works. That's an 80-mile round trip every day. He apparently drives alone.
When someone makes choices that cost them time, money and stress, that's their concern. When Neary and too many others like him choose to live far from work and drive alone, they clog the roads and pollute the air. They cost all of us time, money and stress. Their choices are not merely foolish, but selfish and inconsiderate.
UW Research Professor Dan Dailey deserves credit for not only understanding traffic problems, but for making the basic personal choices to help solve them. He lives close enough to bicycle to work, and does so.
Grant Coomer, '68, SeaTac
Editor's Note: Neary, who works for the UW, usually takes the bus to work. When he drives, he carpools with his wife, a UW student.
Hearts vs. the Marketplace
Many sincere thanks for the new Columns and its mission in the 2000s, as in the past. With all the advances in medicine and technology, I miss recognition for the arts, particularly literature, although the U.S. News ranking for drama being 10th shows that the work of Glenn Hughes and the old Showboat and Seattle Playhouse may not be completely forgotten. They created a University District distinct from the city, which helped mold character and promoted real Christian character.
I trust all the students still choose majors from their talents and their hearts—and not just for the marketplace.
Mary Palmer Morris, '49, '52, Lewistown, Mont.
Husky Bargains
I really enjoy reading Columns, and figure that the lifetime membership I bought in 1984 was one of the better bargains I've ever had (especially when you throw in the University Book Store refund!). Thanks.
Cathi Soriano, '84, '86, Seattle
Correction
In our June issue, Columns was in error when listing the date Gov. Dan Evans, '48, '49, joined the UW Board of Regents. The correct year was 1993.