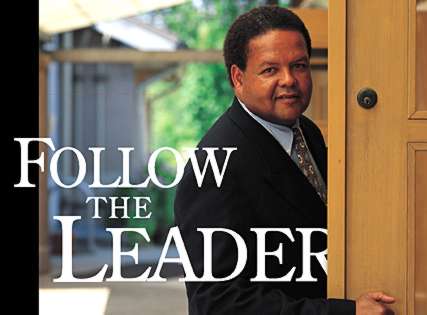 Rudy Crew Brings His 'Tough Love' Approach to Public Schools from the Hallways of New York to the Shores of Portage Bay.
By Brad Broburg
When Rudy Crew talks about education, his passion can lead to an apology.
"I'm yelling at you," he says midway through a recent interview. "I'm sorry."
Two weeks later, Crew cranks up the volume again, this time as he concludes a speech in front of the Emerald City Rotary Club.
"I'm sorry," he tells the breakfast gathering. "I'm yelling at you."
In neither case was Crew angry. Like a preacher punctuating a sermon, he'd simply reached an emotional crescendo in his relentless argument that every child can learn—a mantra that's inspired him every step of the way on his climb to the top of the education profession.
"I push very hard because I don't think there's anything we're asking young people to do today that they can't do," explains Crew. "And it doesn't matter to me where they came from. I don't allow that to be a limitation."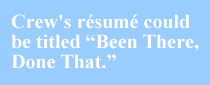 UW President Richard L. McCormick chuckles when told of Crew's vehemence. After all, Crew's enthusiasm is a big reason McCormick aggressively recruited the former chancellor of New York City public schools to breathe life into the University's new Institute for K-12 Leadership.
"He's a brilliant and charismatic school leader," says McCormick. "That's it in a nutshell."
The goal of the leadership institute is to provide ongoing training and support for principals, superintendents and others guiding public education in the 21st century. The institute is a component of the University's overall K-12 education strategy, which is to support the state's schools in several ways (see Filling a Need: UW Lends Strengths to K-12 Education).
What exactly will the leadership institute do? Ultimately, whatever Crew decides. Until he arrived, the institute existed only on paper. "I think this is a pretty clean canvas," says Crew.
McCormick agrees: "My vision is Rudy's vision."
Crew was McCormick's first—and only—choice to launch the leadership institute. McCormick says he eventually would have sought other candidates, "but as long as Rudy was potentially available, I waited."
McCormick's wait began in 1998 after Crew delivered a keynote speech to the UW Board of Regents. The regents were laying the groundwork for what would become the University's official K-12 strategic direction and Crew "made a dazzling impression," recalls McCormick. "He more or less set the agenda."
So strong was Crew's performance that McCormick began corresponding with Crew following his return to New York. The reason? "I knew I wanted to make a run at bringing Rudy to the University," says McCormick.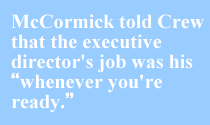 At the time, McCormick didn't know exactly what Crew's role would be. He only knew that the political clock is always ticking for Big Apple school chancellors and Crew was "worth waiting for."
A few months later, McCormick upped the ante. As UW administrators and regents continued to explore how the University could best support K-12 education, they concluded that improved leadership was a critical need and that a leadership institute was the best answer. Midway through 1999, McCormick told Crew that the executive director's job was his "whenever you're ready."
Thanks to a showdown with New York Mayor Rudy Giuliani over school vouchers, Crew was ready in a matter of months. As soon as McCormick learned Crew and Giuliani were at odds, the President jumped on the phone and repeated his offer.
On Feb. 1, Crew officially became executive director of the Institute for K-12 Leadership—and its first employee.