Association News
New Site Showcases Holiday Fair
Do your holiday shopping early and help raise money for student scholarships at the same time at the Alumnae Board's annual Holiday Fair, an arts and crafts show held Sept. 22-23 at Sand Point Magnuson Park, formerly known as Sand Point Naval Station.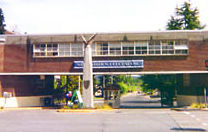 ---

The main entrance to Seattle's Sand Point Magnuson Park. Shoppers going to the Alumnae Board's Holiday Fair should use the NOAA entrance just north of this. Photo courtesy History Ink.

---
For the first time, the fair will be held off campus in order to accommodate more artisans and craftsmen. Nearly 130 vendors will display their wares at the fair, which will raise enough money to fund more full-tuition scholarships for students who otherwise might not have a chance to continue their education.
The fair will also feature live music, entertainment and food. The two-day festival draws nearly 5,000 shoppers, making the Holiday Fair one of the Northwest's most popular arts and crafts shows.
The fair, which has been held on campus for nearly 50 years, will feature everything from holiday decorations and Husky collectibles to clothing and jewelry. Also on sale will be the new Alumnae Board cookbook, featuring recipes from dozens of famous people from the UW community, such as artist Dale Chihuly, '65, former football coach Don James, actress Dawn Wells, '60, and author Ann Rule, '53.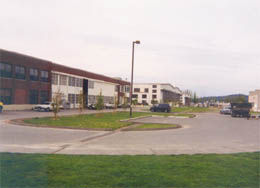 ---

The Alumnae Board Holiday Fair will be held in Hangar 2, similar to these structures remaining from the days of Naval Station Seattle. Photo courtesy History Ink.

---
Since 1920, the Alumnae Board has provided scholarships to promising UW students. Second only to the athletic department in the number of scholarships awarded, the all-volunteer board raises money for 20 full-tuition scholarships from proceeds raised at the Holiday Fair. Last year, the Alumnae Board gave out 28 full scholarships, thanks to proceeds from the Holiday Fair and a $500,000 gift from Alumnae Board member Kathy Acheson Connors and her husband, John. The Alumnae Board, which received the 1998 UW Alumni Association's Distinguished Service Award, aims to give 28 scholarships in 2001.
This year's Holiday Fair will run from 10 a.m. to 8 p.m. on Friday, Sept. 22, and from 10 a.m. to 6 p.m. on Saturday, Sept. 23. Fair admission is $6, with discounts for UWAA members, seniors over 65 and for those who pick up $1 coupons at the University Book Store and Seattle's Best Coffee locations.
To get to the Holiday Fair, use the NOAA entrance to Sand Point Naval Station at 7400 Sand Point Way N.E., Seattle. Follow the signs to Hangar 2. Parking is free and plentiful.