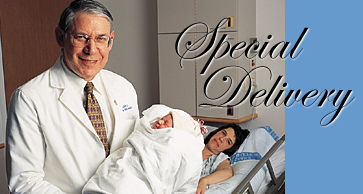 ---

UW OB/GYN Chair Steven Gabbe, holding 5-hour-old Maya Ismach. Photo by Kathy Sauber.

---
By Irene Svete
Healthy babies, healthy moms. Those are Rebecca Moore's goals. As a "doula," the Port Orchard mother of three helps expectant parents plan for their child's birth and often coaches the mother through labor.
"I try to inform them ahead of time about medications and their surgical options," she says. "Basically, I want them to be informed if they are faced with these decisions. That's what it's all about, making good decisions."
One of the biggest decisions facing Moore's clients is how their baby will be delivered. Should they try for a vaginal delivery, or schedule a Caesarean section? And what about the use of forceps or vacuum extraction? What method will mean the least risk to both mother and child?
Since the 1980s, most studies on childbirth have focused on the ways that different delivery methods affect the baby's health. Now a group of UW researchers are looking at how those methods—especially Caesarean sections—affect the health of the mothers.
"There's been very little research on the impact of the birth on the mother's health after delivery," says lead author Mona Lydon-Rochelle, a senior research fellow in the UW School of Nursing.
---

Nursing researcher Mona Lydon-Rochelle's landmark study recommends a larger role for midwives and second-opinion requirements to reduce the likelihood of first-time C-sections.

---
Controversy about the risks and benefits of Caesarean sections, or C-sections, as they are commonly called, has raged for more than a decade. Between 1970 and 1988, the Caesarean rate skyrocketed from 5 percent to nearly 25 percent of deliveries in the United States.
In May, Lydon-Rochelle and her team published a study in The Journal of the American Medical Association on links between delivery and rehospitalization. While only a small percentage of Washington's new mothers—1.2 percent—are rehospitalized within two months of delivery, mothers who deliver by Caesarean section are 80 percent more likely to be among that group.
For mothers with assisted vaginal delivery, the risk of going back into the hospital was 30 percent higher. That's even when the mother's age, medical history and pregnancy complications are taken into account, says Lydon-Rochelle.
"To be hospitalized with a new baby at home is an enormous problem," she says. Rehospitalization "carries substantial consequences including high economic costs. It disrupts early parenting and increases the family burden."
Go To: Page 1 | Page 2 | Page 3