Briefings
Awards Honor Undergraduate Education
Two UW units were recognized for innovative improvements to education June 8th as the Department of Technical Communication and the Comparative History of Ideas Program won 2000 Brotman Instructional Excellence Awards.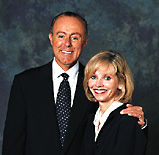 ---

Jeff, '64, '67, and Susan Brotman

---
Named after UW Regent Jeffrey Brotman, '64, '67, and his wife, Susan, the award recognizes collaboration within and among departments and programs to improve undergraduate education. Winners are announced at the UW Recognition Ceremony that also honors winners of the UW Distinguished Teaching Awards and other award winners.
The Department of Technical Communication was recognized for its many efforts at fostering teamwork between faculty and students. The department emphasizes hands-on experience, including opportunities to write for the regional science magazine Northwest Science & Technology, and internships with major corporations such as Microsoft, IBM and Intel. The department also revamped writing throughout the College of Engineering with the establishment of an Engineering Writing Center. The center uses communication students as tutors to help their engineering peers navigate the complexities of writing about scientific topics.
This year's other award winner, the Comparative History of Ideas Program, is largely steered by its undergraduates. Since its low-key origins in the 1970s, the program has grown into one of the UW's most popular majors, an intellectual and social haven for more than 150 undergraduates. The program's goal is studying the ways in which diverse identities can be understood and interpreted. Small group discussions are the heart of the program, and it shows in its graduates. "They tend to do very well in interviews," says History Professor John Toews, the program director. "They've done a lot of independent work, which requires people to be fairly articulate."
Each unit will receive $17,500, made possible by a gift of $250,000 from the Brotmans. Jeffrey Brotman, a founder of Costco, earned both his undergraduate and law degrees at the UW.