Association News
UW Nets Tennis Pro to Head Alumni Association
She once considered suing the University of Washington over discrimination in the funding of women's sports. But 28 years later, she now heads the organization that represents its 300,000 living alumni.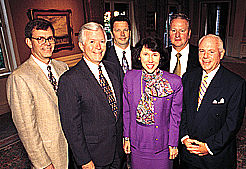 ---

UW Alumni Association officers for 2000-2001 are (left to right) Treasurer Gregg Blodgett, '76; Past-President Geoff Vernon, '65; Secretary DAvid Fagerlie, '81; President Patricia "Trish" Bostrom, '72; Vice President Gary Oertli, '70, '72; and President-Elect John W. "Jack" David. Photo by Jon Marmor.

---
Patricia "Trish" Bostrom, '72, is the president of the UW Alumni Association for 2000-01, a situation some might find ironic since she faced several roadblocks in the late '60s and early '70s when she was the number one player on the UW women's tennis team.
There was no recruitment, no funding and little encouragement for women's tennis. Even though Bostrom was ranked as one of the best collegiate women in the nation, she had to raise her own money to travel to a national championship. Meanwhile the men's tennis team had a full travel budget.
When she offered suggestions for new recruits to the team, she was told by the UW athletic administration, "Oh no, this is just a social club."
But that didn't stop Bostrom, who tried out for the men's team in the fall of 1972 and forced a pre-trial hearing over the UW's gender bias in funding. "All this was pre-Title IX (the federal law mandating equal support for women's sports)," Bostrom says. "We were pushing the envelope for change."
After graduation, she had an eight-year career as an international tennis professional. She was ranked fifth in the world in doubles and 30th in women's singles. In 1977 she played at center court in Wimbledon with Mary Carillo, beating Billie Jean King and Karen Sussman in women's doubles. Other pro highlights included winning the Spanish Open in doubles and being a semi-finalist at the French Open and U.S. Open in mixed doubles. In recognition of her college and professional career, Bostrom was inducted into the Husky Hall of Fame in 1987.
In addition to her B.A. from the UW in political science—she graduated Phi Beta Kappa, magna cum laude—Bostrom earned a law degree from Southern Methodist University in 1983. Now a Seattle lawyer, Bostrom's involvement in community affairs includes many hours to help the University. "The UW provided me with a great foundation and this is an opportunity for me to give something back," she says. "I want to help a great organization that provides so much to the future of our state and our nation."
When asked if there was any lingering resentment over her experience as a student-athlete, she says, "There are two roads you can go. You can take the road of bitterness, or you can take the road of hope and promise. That last road is the much more exciting road to take. The changes at the UW in women's athletics have been amazing and are so exciting."
As the head of the UWAA Board of Trustees, Trish has a series of goals for the year that, she says, will take the alumni association "to the next level." She hopes to increase membership in the UWAA by five percent and to forge strong partnerships with the academic departments and the athletic program.
Bostrom also wants to expand UWAA academic offerings. "I'd like to see an academic lecture series each quarter, similar to the successful Bridgman lecture series we hold in the winter," she explains. She's halfway to her goal already, as the UWAA is offering a series on American democracy starting Oct. 4 (see "Politics, Power and Policy: Fall Lecture Series Explores Democracy").
Her other goals include creating an endowment for the UW Alumni Association in conjunction with a special fund raising event. "I'd like to see us provide a much greater number of scholarships, building on the successful programs of the Multicultural Alumni Partnership and the Alumnae Board," she explains.
Trish also wants to increase volunteer opportunities in the association and attract more volunteers. "Huskies should know that getting involved is a lot of fun. The people that you meet are just extraordinary," she says. "And by getting involved, you will receive so much more than you are giving, as you help your alma matter," she explains.
To become involved, call the alumni association at (206) 543-0540 or 1-800-AUW-ALUM or send e-mail to uwalumni@u.washington.edu.
Other UWAA officers for 2000-01 are John W. "Jack" David, president-elect; Gary Oertli, '70, '72, vice president; Gregg Blodgett, '76, treasurer; and David Fagerlie, '81, secretary. New to the UWAA Board of Trustees are at-large members John Buller, '71; Ron Elgin, '65; and Doug Seto, '78; and three trustees representing alumni clubs: Gene Chase, '67, academic/special interest clubs; Bruce Garrison, '78, out-of-state geographic clubs; and Lee Gibon, '77, in-state geographic clubs.