ALUMNOTES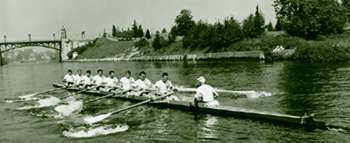 ---

The 1948-50 men's crew, to be honored at this year's Husky Hall of Fame. Photo courtesy of Husky Media Relations.

---
Irene Frances Kellner, '23
Long Beach, celebrated her 100th birthday on April 14. She proudly reports that two grandsons attend the UW.
Neal R. Fosseen, '30
Spokane, was honored in April by his UW fraternity, Beta Theta Pi. The fraternity presented him with the Oxford Cup in recognition of his work as mayor of Spokane from 1960-67, when he helped rebuild the downtown.
Paul N. Vance, '38
St. Helens, Ore., received a 50-year membership certificate in 1999 from the Society of American Foresters. In February, he and his wife, Frances, celebrated their 60th wedding anniversary.
Jeanne Zimmerman, '40
Brier, and her husband, Carl, have a farm in Brier. Each year, they host free tours of their farm, which features more than 50,000 tulip bulbs.
Jean Parker Dunbar, '43
Port Townsend, was named Jefferson General Hospital's Volunteer of the Year for volunteering Monday through Friday afternoons plus special days in the emergency room.
Arthur A. Hart, '48
Boise, Idaho, received the Idaho Humanities Council's award for Outstanding Achievement in the Humanities for 1999 as well as the Idaho Preservation Council's Orchid Award as distinguished preservationist. He is director emeritus of the Idaho State Historical Society.
A. James Moon, '48
Oberlin, Ohio, has been in Oberlin since 1969, when he worked as a piano technician at the Conservatory of Music. Since 1976, he has been self-employed. He plays clarinet in three concert bands and two orchestras.
Dave L. Person, '49
Gig Harbor, writes that the fourth generation of the Person family recently graduated from the UW. The first was his father, Max Person, '47, son Jack Person, '75, and now grandson Kerry Person, '00, who graduated with the chemical engineering class this past spring.
ATTENTION, CLASS OF 1950
Your 50-year reunion will be held Homecoming Weekend, Oct. 21, in Kane Hall before the California-UW football game. For more information or to help organize your reunion, call Cathy Deckard at 1-800-AUW-ALUM.
Len Saari, '51
Sun City West, Ariz., and his wife, Ruth, '51, have been inducted into Seattle's Broadway High School Hall of Fame for their many achievements in journalism and national government affairs. Len was elected editor of the Daily in 1951. Now retired, they are active on the board of the Ex-Press Club, whose members are former journalists from print and broadcast media.
Rollin Lawrence Hurd, '52
Kirkland, reports that his novel Promise to Mellita was published last December. The second oldest of his nine grandchildren graduated from the UW.
Kenneth B. West, '52, '65
Flint, Mich., retired in May 1999 after 33 years as a history professor at the Univ. of Michigan-Flint.
Robert J. Bryan, '56, '58
Tacoma, will assume senior status in the U.S. Courts for the Ninth Circuit on Nov. 1.
Bill Kappler, '58, '60
Kenmore, is president and founder of Home Harbor, Inc., an international seafood company which exports North Pacific seafood to Europe and the Far East.
ATTENTION, CLASS OF 1960
Your 40-year reunion will be held during Homecoming on Saturday, Oct. 21, at the Burke Museum after the California-UW football game. Festivities begin around 6 p.m. For more information or to help organize your reunion, call Anne Novotney at 1-800-AUW-ALUM.
Robert H. Briggs, '60
Cottage Grove, Minn., is listed in Who's Who in America 2000.
Lee G. Copeland, '60
Seattle, was awarded the AIA Seattle Medal 2000 for his lifetime achievement in architecture and service to the profession, community, education and the arts.

Charles Ainslie, '64
Woodway, is chairman and CEO of Golf Savings Bank, which formerly was known as Lynnwood Mortgage Co.
Ron McConnell, '65
Bellevue, was among 82 certified planners in North America selected as Fellows of the American Inst. of Certified Planners. He is a principal at McConnell/Burke.
David B. Offer, '65
Arlington, Va., was named executive editor of Stars and Stripes, a daily newspaper serving U.S. military communities in Europe and Asia. He will be based in Washington, D.C. He had been editor of the Daily News in Newport, R.I., for 12 years.
Patricia E. Widden, '65
Bellevue, had her story "Remembering Uncle and the Sinnemox, July 1934" published in Nor'westing, the Family Boating Magazine.
Eric Nalder, '68
Seattle, received the Year 2000 Susan Hutchison Bosch Award from the Society of Professional Journalists' Western Washington chapter. Chief investigative reporter at the Seattle Times, he has won Pulitzer Prizes for national reporting (1990) and investigative reporting (1997).
Benjamin Franklin, '69
Mercer Island, has been selected to join the board of directors for Seattle-based Presbyterian Ministries. During his 38-year career, he worked for Boeing for all but seven years. At Boeing, he managed the TECH-PREP Program, introducing career opportunities to high school students.
William Gasperetti Jr., '69
Sammamish, and his wife, Jennifer, recently celebrated their 30th wedding anniversary. He is VP of commercial real estate at InterWest Bank.
James W. Kukull, '69
Kirkland, was designated an accredited senior appraiser by the American Society of Appraisers.
E.J. Brisker Jr., '70
Seattle, is alive and well and working on a multi-faceted, multi-media project, BOOKS. For more information about Brisker, contact him at BOOKS, 520 Second Ave. W, Suite C, Seattle, 98119.
John F. McGrady, '70, '74
Honolulu, reports that his first book, Sailing the Dream, published by Coconut Info Publishing, is selling well. The book describes his family's three-year sailing adventure from Seattle through Polynesia.
Gary Oertli, '70, '72
Seattle, left his position as president of Shoreline Community College in June to become senior VP of out-of-state marketing and chief strategist for e-Werkz, a start-up company that sells software to public and private two- and four-year schools for online textbook sales. He was also named vice president of the UW Alumni Association for 2000-01.
Gaylord Reagan, '70, '71
Omaha, Neb., will publish a new article in McGraw/Hill's 2001 Training Sourcebook. He had another article reprinted in McGraw/Hill's 2001 Consultant's Sourcebook.
Francis M. (Mel) Turner, '70, '72, '75
Klamath Falls, Ore., retired in June after 18 years of teaching at the Oregon Inst. of Technology. He plans to relocate to Marysville to be closer to his family.
Lawrence Jarmon, '72
Los Angeles, was appointed VP of student services at Los Angeles Southwest College, where he has worked since 1975.
Marsha Rossman Starr, '72
Sumner, is a pediatric nurse practitioner. Her husband, J. Steven Starr, '72, is senior pastor at Sumner Presbyterian Church. Their daughter, Kristin, is a junior at Pepperdine Univ.
David Utevsky, '72
Seattle, is a senior regional attorney in the Seattle office of NASD Regulation, Inc.

Jeff Watt, '72
Bellevue, has been appointed to serve a three-year term on Girl Scouts' Totem Council's Board of Directors. He is VP with J&H Marsh, a company specializing in risk management and financial problems.
Richard F. McDermott, '73
Kirkland, was appointed by Gov. Gary Locke to the King County Superior Court on March 2. Washington Law and Politics recently selected him as one of the state's top civil attorneys. He teaches ethics at Seattle Univ. School of Law.

Assunta Ng, '74, '76, '79
Seattle, was presented with the June Anderson Almquist Award for Distinguished Service to Journalism by the Society of Professional Journalists' Western Washington chapter. She is the founder and publisher of the Northwest Asian Weekly and the Seattle Chinese Post.
Frank B. Serafini, '75
Atlanta, relocated once again and became a region manager for General Electric. Since graduating with his degree in ceramic engineering, he has lived in New York (twice), New Jersey (three times), Houston (three times), Kansas City (twice), London, Brussels, Kuwait, Saudi Arabia and Bahrain.
Barbara Ross, '76
Seattle, works as an environmental engineer at the Environmental Protection Agency. Her job is to prevent lead poisoning in children.
Mark Holderman, '77
Al-Jubail, Saudi Arabia, is on assignment for Kellogg Brown and Root for the start-up of an ammonia plant for Saudi Arabian Fertilizer.
Jonathan Dembo, '78
Greenville, N.C., is the new head of special collections at East Carolina Univ. He had been manuscript curator, archivist and records manager for the Cincinnati Museum Ctr. for the previous 15 years.
James Winchell, '78, '88
Portland, Ore., and his wife, Jennifer, '87, welcomed a son, Ezra Ezekiel Winchell, on June 2, 1999.
Kiran Bhatt, '79
Anaheim, Calif., has been nominated as a distinguished member of the Intl. Society of Poets. Her work was featured in the book America at the Millennium, published in May. She is an assistant clinical professor at UC Irvine.
Sarah Jean Cooper, '79
College Place, retired after 17 years in nursing administration at St. Luke's Regional Med. Ctr. in Boise, Idaho, and began another career in education. She just completed her fourth year as an instructor in Walla Walla Community College's nursing program. "Being an instructor is great fun and much work. Thank you to UW nursing faculty for preparing me for a great career," she writes.
Greg Fellman, '79
Everett, was the winner of the AT&T/Columns Sweepstakes offered in the March issue of Columns. He won a UW Nokia wireless phone, air time credit from AT&T Wireless Services and a gift certificate for dinner at the Space Needle.
Brian A. Christiano, '80
Columbia, S.C., retired from the U.S. Navy 10 years ago and runs his own engineering design firm, BC Engineering. He is an adviser for the Univ. of South Carolina senior design class and an active member of the American Society of Mechanical Engineers.
Jaymes K. Fenander, '80
Vancouver, Wash., was promoted to mechanical engineering team leader for Columbia Machine, where he has been employed for the last 20 years.
Gilberto Hedges-Blanquez, '82
Seattle, is head librarian at B.F. Day Elementary School in Seattle. He and his wife, Sally Hedges, '82, have a son, William.
Kent A. Rhodes, '82
Port Orchard, is a Seattle-based first officer of a United Airlines Boeing 777.
J. Michael Geringer, '83, '86
San Luis Obispo, Calif., was honored as a 1999-2000 Distinguished Teacher at Cal Poly San Luis Obispo. He has been a professor of global strategy and law there since 1992.
Mary McClellan, '83, '85
Federal Way, has taught high school biology for 23 years. A district representative for the Washington State Teachers Assoc., she was recently filmed by Boston public TV station WBGH for the "Teaching High School Science" project.
Cindy Jo Rowley, '83
Kenmore, has been working as a speech coordinator at Little Red School House for 14 years. She and her husband, John, have three boys: Justin, 13, and 11-year-old twins Jordan and Jared.
Nancy Y. Isely-Fletcher, '84
Lake Forest Park, is managing partner of VC Team, a venture capital fund.
Anthony L. Nufer, '85
San Diego, retired after spending 23 years in the U.S. Navy. He currently works as a program manager for Anteon Corp.
Lynne Almvig, '86
Sedro Woolley, is a CAD designer in the sustaining engineering group for Alpha Technologies. She is completing her computer certification at Skagit Community College as well as majoring in computer information systems.
Brian Tucker, '86
Kirkland, works as a customer development manager at Microvision. He is married with two children.
Steve Herring, '88
Arlington, has joined the investment firm Morgan Stanley Dean Witter as a financial adviser. He and his wife, Tara, have two "Husky pups" in son Taylor, 4, and daughter Nicole, 2.
Leslee Paquette, '89
Renton, received the Renton Technical College Exceptional Staff Award for 2000. She has been the college's graphic designer since 1996. In addition, her design for the Renton Technical College Foundation Annual Report won a Certificate of Merit from the Intl. Assoc. of Business Communicators and her design for the school's Student Handbook won a national Gold Paragon Award from the Natl. Council of Marketing and Public Relations.
William Howard Leyda Jr., '92
Morgan Hill, Calif., left Iomega after four years to become VP of worldwide marketing at Cidco. He has been married for 14 years and has two boys, ages 6 and 10. "We are going to miss Utah but are looking forward to fun times in California," he writes.
Trisha Rebhuhn Wieber, '92
Boise, Idaho, and her husband, Nicholas, '94, recently moved to Idaho so Nick could begin his new position as a chemist with Micron Technology. Trisha recently gave birth to their second child, Sophia Margaret Mary Wieber.
Andrew Bodien, '93
Portland, Ore., recently received his customs broker license. He works at the Portland branch of Expeditors Intl.
Barbara Stratton, '94
Austin, Texas, received her master's degree in human services from St. Edward's Univ. in Austin in June. In her free time, she runs a feral cat program, and "am doing my best to wend my way back to the beautiful and wet Pacific Northwest," she writes.
Kristin N. Cooley, '95
Tucson, Ariz., is in her second year of graduate school, pursuing a master's of art in art history at the Univ. of Arizona.
Susanne Anderson, '96
Kirkland, graduated from Seattle Univ. in 1999 with an M.A. in counseling and has a private practice. Her husband, Roger Anderson, '63, continues to run his business selling treated lumber. An avid Husky fan, he travels to road football games and is a scratch golfer.
Dean Bellamy, '96
Colbert, is group VP of commercial lending at United Security Bank. He and his wife, Kimberly, have two daughters, Brooke and Brenna. He would like to be in contact with other business alumni in the Spokane area. You can reach him at Bellamy@Dellnet.com.
Julie Hendrickson, '96
Des Moines, earned her M.A. in counseling in 1998 and works for Senior Services of Seattle/King County.
Kaleb K. Jenson, '96
West Allis, Wis., received his medical degree from the Medical College of Wisconsin in May. After a transitional residency in Portland, Ore., he will begin an anesthesiology residency at UC-San Francisco.
Shelby Tarutis, '96
Shoreline, founded Gambia HELP, a non-profit organization that provides health and education programs and materials to The Gambia, West Africa.
Mary-Pat Lively, '97
Seattle, has been appointed to the Swedish Med. Ctr. Ethics Committee. She is a medical social worker with Swedish Hospice Team.
Lara Pfeffer, '97
Honolulu, is a volunteer for The Contemporary Museum in Honolulu and the Boys and Girls Club of Hawaii. She and her husband, Michael, executive VP of a commercial real estate corporation, serve on many charitable boards and collect fine art and Asian antiques.
Anna Buskirk, '98
Denver, is attending the Univ. of Denver graduate school of professional psychology.
Adam C. Gossett, '98
Seattle, was married to Windy Pratt, '96, in the summer of 1999.
Donovan Isaak, '98
Seattle, works as an account coordinator at the Cobalt Group in downtown Seattle.
Karen Johnson, '98
San Diego, works for Rudolph and Sletten General Contractors as an administrative assistant/marketing representative. She plans to be married in September.
Ginny Ranlett, '98
Seattle, teaches fourth and fifth grades at Gatewood Elementary School in Seattle.
Matthew Ballou, '99
Everett, is working as a programmer analyst for Snohomish County's Dept. of Information Services.
Kyle R. Hutchins, '99
Seattle, is enjoying the technology industry while working as a consultant for Equarius.
Seng-Lai Tan, '99
Redmond, is completing his postdoctoral studies in the UW microbiology department. He received the 1999 Milstein Young Investigator Award in recognition of outstanding accomplishments in interferon and cytokine research from the Intl. Society for Interferon and Cytokine Research. He also received a travel fellowship to the 2000 Intl. Congress of Biochemistry and Molecular Biology in England. He will join Eli Lilly of Indianapolis as a senior scientist.
Joanne M. Wells, '99
Tacoma, left her job of six years teaching at McNeil Island Corrections Ctr. to teach special-education students in the Tacoma School Dist. "Wherever I end up, I will always be grateful for my education at UW Tacoma and for the guidance of Dr. Marcy Stein," she writes.
Steven J. Bernick, '00
Silver Spring, Md., accepted a commission in the U.S. Navy and is attending medical school at the Uniformed Services Univ. of Health Sciences in Washington, D.C. He is also getting married to Lariesa M. Hodges, '00.
Karen Louise Wilson, '00
Federal Way, accepted a teaching job at Chief Leschi School in Puyallup, teaching mathematics to students in grades 9-12.
You must be a member of the UW Alumni Association to be listed in the Alumnotes section. To join, call (206) 543-0540 or 1-800-AUW-ALUM.
---
Submit a Class Note
Tell us what major events have happened in your life: a new job, marriage, children, retirement, advanced degrees, you name it.

Submit an Obituary
Please let us know if a UW alumnus has died. Be sure to include date of death, place of death and age along with the UW class year (if known).

Update Your Records
Moving soon or know someone else who has? Let us know so that we can keep Columns coming to you.

Contact Information
Columns Magazine
1415 N.E. 45th Street
Seattle, WA 98105
Phone: (206) 543-0540
Fax: (206) 685-0611.
E-Mail: columns@u.washington.edu