What They Said about Neuheisel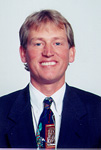 "It was now or never. [Hedges] made a statement going after and getting Rick Neuheisel. She will make him one of college football's best-paid coaches. She has said Washington is willing to play the game at the highest level."-Blaine Newnham, Seattle Times
"The contract not only is astonishing for Washington and the Pac-10-even though it isn't tax money, we're still talking about a major research university that is supposed to be a symbol of judgment, rectitude and sobriety-it is flabbergasting for a coach who, at 37, is only four years into a head coaching career. That career has not included so much as a conference championship."-Art Thiel, Seattle Post-Intelligencer
"To get the very best, you have to play in, and pay in, the market. The same thing applies whether you are trying to recruit and maintain faculty in the history department or a coach in football. The market, of course, is vastly different in those areas but the same basic imperatives apply-to get the best-and in Rick Neuheisel, we have the best."-UW President Richard L. McCormick
"After that one short meeting, I'm completely excited about this next year, and even this offseason. I'm excited just to talk to him, let alone play for him."-Husky H-back Joe Jarzynka
"The Colorado Buffaloes have no football coach this morning, which is an improvement over their position 24 hours earlier. With his voice packed with the sincerity he always faked so well, Rick Neuheisel said, 'I'm going to have a hard time saying good-bye,' then did the best thing he could possibly do for CU football on Saturday: He took the money and ran off to the University of Washington, where his guitar can gently weep in the rain."-Mark Kiszla, Denver Post
"[Neuheisel] will be charming where Lambright was gruff. He will be political and pragmatic, where Lambright was pugnacious and unpolished. He is Brad Pitt with a clipboard."-Steve Kelley, Seattle Times.

What They Said about Lambright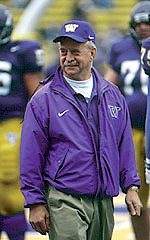 "Lambright said he thought his '30 years deserved better' and he might be right. But what he never understood was that while loyalty might be a small reason to hire a coach-it was part of what got him the job when James quit-it is no reason to keep a coach."-Art Thiel, Seattle Post-Intelligencer
"Coach's loyalty to the University of Washington has been unparalleled, devoting 30 years of his life to the purple and gold. He has been very loyal to me and I am very sorry and sad that his era has ended."-Husky Quarterback Brock Huard.
"The key is to win. And in the final analysis, Jim didn't do enough of that to keep the pressure off of him."-former Coach Don James.
"I want to thank Jim Lambright for his years of service on behalf of the UW football program. He saw it through some tumultuous times and he gave it stability."-UW President Richard L. McCormick
"Lambright never engendered the loyalty of Husky fans that should have come for a man who played and coached in nearly half the games the UW ever contested. Part of it was the comparisons with [Don] James, whom fans thought never had a punt blocked or returned, who always had his team prepared, when there were plenty of times he didn't. But James didn't do dumb things. Given a chance to foul things up publicly, Lambright would."-Blaine Newham, Seattle Times
"Lambright was homespun, much as you might expect from a football lifer. He was friendly, he could be charming, and he liked to chat. But he talked too freely, often when the better par of wisdom should have dictated: Zip it."-Bud Withers, Seattle Post-Intelligencer