Letters on the Coaching Turnover at Washington
Updated April 15, 1999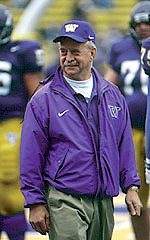 Weak Excuses for Firing
I am a UW grad (Class of '71), a Tyee member, a season ticket holder, and lifetime alumni member. I most strongly protest the firing of Coach Jim Lambright. The only one that should be looking for a new job is Barbara Hedges. I have read her interview with the press and her excuses are very weak and have absolutely no substance. She has never been true to the University of Washington athletics. She never supported Don James and now she fired a guy who has lived purple and gold for 30 years. Lambo's a great coach. He has had to live through the sanctions that were unfairly imposed on the football program from the Don James era. The sanctions that were imposed on the football program were completely unfair, especially when compared with other national programs and the sanctions imposed on them (Florida State) for much more serious infractions. She never stood up for the program and let Don James take all the shots. Her timing of the firing is suspect as this will kill recruiting for the next several years. I question her loyalty to Washington athletics. The only search that should be underway at this time is for a new athletic director.
Steven B. Westover, '71
Woodbridge, Va.
Associate Vice President for University Relations Norman G. Arkans responds:
We know that not everyone agrees with the decision to replace Coach Lambright. Athletic Director Hedges came to the conclusion after careful deliberation that the program needed new direction and new focus, and we support her in that decision.
The athletic department's record of success in recent years is excellent. More students are excelling in their academic and athletic programs than ever before, and the department has finished increasingly higher each year in the Sears Cup standings, measuring overall success across all the sports. The Campaign for the Student Athlete is doing exceptionally well and will bring new and improved facilities to all the sports programs, including a new indoor practice facility and a completely renovated Hec Ed Pavilion. We feel the department is in very good hands under Hedges leadership.
She has made a number of truly outstanding coaching and staff appointments since taking over the department, and we are confident she will do so as well for this most important appointment to the football program. Incidentally, Coach James has been extremely helpful in responding to Hedges' request for assistance and advice in identifying candidates to succeed Coach Lambright.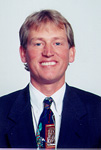 Coach's Pay Incongruous with University Goals
So let me get this straight: at a time when crucial academic faculty talent is told the University of Washington cannot pay them competitive salaries, the University is going to make their new football coach one of the highest paid coaches in the US. This seems incongruous with the goals of the University, but I guess I must be mistaken in thinking that teaching and research is the primary mission. This could be a brilliant move to send those pesky professors a clear message regarding the priorities; yet another explanation is that this is a cry for help from Athletic Director Barbara Hedges and President McCormick. Perhaps they are saying that each needs to spend some quality time out of a job.
Should this travesty truly play out as reported, UW alumni such as myself will think twice about their contributions. The situation is akin to a mother squandering her money on wild partying, then asking for contributions to feed her emaciated child.
Eric R. Raman, '95
Seattle
"Don't Raid Washington": A Fable
A note of explanation is required about the recent dismissal of the University of Washington's head football coach and his replacement by the young, academically well-credentialed coach from the University of Colorado. Presently there is a considerable amount of misunderstanding and erroneous speculation about why these changes occurred. Since most football fans were not privy to the many machinations that brought about these changes, a full account is offered here:
First, these actions had nothing to do with football per se.
Some time ago, University of Washington President Richard McCormick and others in the administration were becoming increasingly alarmed about the "raids" on young, promising University faculty by competing ("peer") academic institutions. These events were recently detailed in the December 1998 issue of the alumni magazine, Columns, in an article entitled, "The Brain Drain." Several examples were laid out showing how our youngest, brightest "rising faculty stars" were being grabbed by hostile academic institutions who were waving dollar bills at them. And, our faculty members were defecting in ever greater numbers. The University of Washington was being seriously wounded.
In response to these disturbing defections, President McCormick called a meeting to address this problem. Present were the Regents of the University of Washington and several department chairs whose programs had been seriously harmed by "raids." At this meeting, President McCormick happened to have inquired about the details of one of the most recent defections, that of the Music Department's Professor Joan Catoni Conlon. She had been "coach" of the UW's choral program for the past 19 years. Her case had also been publicized in the Columns article. In passing, it was noted that she had been taken by the University of Colorado (Buffaloes); they had waved a 30% pay hike at her and, apparently, it was enough.
The suggestion was made at that time that perhaps those institutions who raid the University of Washington should be "sent a message"; a "shot across the bow," concerning their hostile actions. Since the University of Colorado had just been mentioned in the Conlon case, a discussion of a retaliatory "raid" on that institution evolved. Since intercollegiate football is the most visible program at the University of Colorado, as it is at most major academic institutions, it was decided at the meeting to examine the viability of targeting the University of Colorado Buffaloes head football coach in a retaliatory "faculty raid." It was speculated that if such a "counter raid" could be spectacular enough, it would not only produce "the greatest pain" on the offending institution, but also bring about national attention to the problem of "academic raids" on vulnerable universities like the University of Washington.
It was also recognized at that time that the University of Washington could not provide the funding for this particular type of "counter raid" due to the nature of the target; the funding for such an action against the Buffaloes' athletic department would have to come from outside the academic arena. After the meeting, several wealthy Husky boosters and the University of Washington athletic department were approached about raising the funds for a raid, as well as being asked to consider the possibility of having a new football coach. It should be emphasized that these ideas were only considered "trial balloons" at that time and no concrete plans had been formulated.
However, the proposals were surprisingly well-received--some boosters, as it turned out, were unhappy with the fall '98 Husky football fortunes and felt a coaching change was needed anyway. The boosters were also upset by the recent run of UW faculty defections, and they were particularly upset by those faculty who went to schools with more highly rated football programs (e.g., Professor Richard Gonzalez, psychology department, who went to the University of Michigan Wolverines. (It is not known how many UW faculty defections were due to the declining Husky football fortunes.)
With the cooperation of the boosters, and eventually, the UW Athletic Department's Director Barbara Hedges (who at first was very reluctant to consider a coaching change--Lambright had done an admirable job), all the pieces were in place for the retaliatory "faculty raid" on the University of Colorado for having taken Professor Conlon, the University of Washington's long time choral director.
It is hoped that this chronology will finally clarify the events surrounding the recent hiring of football coach Rick Neuheisel and his staff from the University of Colorado and place them in a wider context: it was not Washington who struck the first blow! The raid by the Buffaloes was also on the academic heart of the University of Washington-its faculty. The UW counter raid was on the football program. The students of the University of Colorado will have to decide which was the more lethal raid in the context of the public mission of universities in our society.
It should be mentioned that coaches Tormey and Pinkel, from Idaho and Ohio universities, respectively, could not be seriously considered for the head coaching position at this time, in spite of being excellent candidates, because they were not affiliated with institutions that had raided the University of Washington faculty.
Admittedly, a high price was paid to "send a message" to the University of Colorado Buffaloes and to all those institutions who might (understandably) be coveting UW faculty. However, most of us feel that the effort was worth it; ergo: "Don't Raid Washington."
PS: Few of the events described in this letter actually took place. :-)
Art Rangno
Seattle
A Slap in the Face
I enjoyed reading the December issue of Columns as a way of revisited my alma mater, and the excellent article, The Brain Drain, by Tom Griffin. Shortly after that, I read in the newspapers that the University is spending one million dollars buying out Coach Jim Lambright's old contract and has consummated a new contract with the new coach for a million dollars a year for seven years, or $7 million dollars!
Doesn't that sound a little ironic or hypocritical to you? With this action, we deprive the students of needed funds or scholarships, send a clear message to the current faculty that they are of little value, that the alumni financial contributions are not used for the right purpose, and more migration of the brain drain will continue. All of these groups simply received a slap in the face.
---
Athletics Director Barbara Hedges
---
Athletics Director Barbara Hedges' inane comments, "Well, that was November, this is December" and "It all comes out of the athletic fund" completely miss the point. I am an avid sports fan myself and like to see the Huskies win, but let's keep it in perspective. Football at the UW is an activity, not a religion or its sole purpose. Hedges obviously feels that academic learning is beginning to get in the way of Husky football and athletics. She is certainly a lightweight person in a heavyweight job.
To go to the Legislature and ask the taxpayers to fork over more money for the UW programs looks incongruous at this point. Most disappointing to me was President McCormick's giving tacit approval to all of this. With alumni contributions down to such a low percentage point, this action will make them go even lower.
It's time McCormick, Hedges and "the powers that be" are reminded that there are other things in life than Husky football and athletics. Two of these are faculty excellence and education. Yes, education, remember?
Eugene N. Soper, '52
Walla Walla
Editor's Note: While many readers may share Soper's concerns, there are a few factual errors in his comments. Money to pay coaches' salaries does not deprive students of scholarships. Nor does any alumni contribution go to these salaries unless the donor specifically requests this action when the gift is made. Coach Neuheisel's salary comes from a combination of athletic department ticket revenue, TV and radio income, and merchandising opportunities such as the contract with Nike. No taxpayer money is involved. While athletic programs at other state universities do receive state funds, the UW does not. The success of its football and basketball programs enables the UW to have 23 programs in intercollegiate athletics and one of the strongest programs in women's sports in the NCAA Division I category. In addition, academics is extremely important to the UW program. For example, the UW received honorable mention from the American Football Coaches Association for having one of 24 college football teams to post a graduation rate of 70 percent or better for the Class of 1997. Of the football student-athletes who completed four years of eligibility in 1997, 74 percent have graduated. The national average for participating institutions was 59 percent.
Smaller Appetites Wanted
I just read the latest Columns re Lambright and Neuhiesel. It was a fair article about the two of them. I'm a Husky alum-Tyee and it appears to me that Jim Lambright should have been given an opportunity to show what can be done after the NCAA restrictions were over. At least he should have been given the opportunity to retire and allow for the time to obtain another position. Why would we in our right minds hire a coach who had weathered his own violations at Colorado to come in here and immediately violate the rules? He may have a Clintonese type of charm but that shouldn't charm our athletic director into bringing him on board with a $1 million dollar, seven year contract. He can't read and she can't read the dollar signs.
Jim is an outstanding individual. He stood by us when Don James left us and Jim took over and brought us six great years. He doesn't deserve this treatment. I for one feel we ought to start with the AD, fire her, and rid ourselves of the $1 milllion coach. We should be able to attract someone with a smaller appetite and a better background.
Edward M. Lane, '54
Tacoma
Sacred Cows Munching Grassi
It's too bad that the article on the UW's brain drain didn't run in the same issue as the announcement of the hiring of the million dollar football coach. It's clear that the UW has no committment to educational excellence. It would obviously prefer to be known as a football powerhouse, rather than an intellectual powerhouse.
While it was very sad when Jim Lambright was fired, why was there no similar outcry when MacArthur Fellows Caroline Bynum and Richard White left for more lucrative positions elsewhere? Just what are the University of Washington's priorities?
If, in fact, the UW is committed to academic excellence, how come there has been no mention of graduation rates under Neuheisel at his previous schools? Does he produce scholar-athletes, or winning teams? These do not have to be mutually exclusive.
One more thing: I find it interesting that Athletic Director Hedges assures us that Neuheisel's salary will be paid out of "athletic revenues." Notice that she didn't say "football revenues." The NCAA has documented that most Division I football programs consistently operate in the red, and are financed by revenues brought in from other sports, i.e., basketball, which accounts for 80-90 percent of all athletic revenues. While Title IX frequently gets the blame for over-extending athletic budgets, it is frequently the sacred cow of football that's munching all the grass.
Lorraine Berry, '87, '93
Ithaca, New York
Editor's Note: Ms. Berry is in error if she believes the UW football program operates in the red. To the contrary, the UW football program is the source for more than 80 percent of the athletic department operating revenue. Without football, state taxpayers would have to subsidize other UW sports, including those women sports established under Title IX. For more on womens' sports at the UW, see Fair Play, from our September 1996 issue.
The Price of Sports
Among the U-Dub football artifacts are old posters still hanging on some dusty beer joint walls, showing Don James and several beefy blockheads all dressed in proper gangster "drag," tooting James as the "Dawgfather."
The current Lambright/Neuheisel flap continues the crappola: Neuheisel's already accused of illegalities and Lambright's said to be about to litigate. So, what was in my undergraduate time called "The University of a Thousand Beers" seems about to become "Sue U."
Theodore Roethke said, "Teaching goes on, in spite of the administrators," and, I add, in spit of the ludicrous, big bucks sports bozos and boosters. But at what cost?
Gordon Anderson, "54, '58
Seattle
Gold Helmet Won't Win Games
Being at the end of the UW football food chain in Southern California, I was stunned by the firing of Coach Lambright--and I have the feeling this may not be over. Reviewing the Husky 1999 schedule, there is the possibility they will lose their first four games due to "revenge" on Coach Rick by BYU, Air Force, Colorado and Oregon for one reason or another. They may win over Oregon State, but the next six games may be subjected to the same conditions as the first four. The resultant end for the Huskies is 1-10.
I doubt if Barbara Hedges looked at this possibility--the gold helmet won't win games and I doubt Coach Neuheisel can overcome this climacteric move by Hedges. If this picture happens, Hedges should receive her walking papers.
Don Campbell, '51
Seal Beach, Calif.
Twisted Priorities
It was deeply disappointing to see that the March issue of Columns gave more space to the fact that the football team's helmets are being changed from purple to gold than to Science Watch's ranking of the effectiveness of scientific research at the top 100 federally funded universities. While the latter story did mention that the UW was ranked eighth overall (following Harvard, Stanford, CalTech, Yale, Michigan, MIT and Cal-Berkeley), it omitted the impressive fact that in mathematics, the UW was ranked first, ahead of Harvard, Stanford, CalTech, Princeton, et. al. It also failed to mention the other five disciplines in which the UW ranked in the top 10: ecology/environment, clinical medicine, geosciences (ranked third), pharmacology (ranked second) and psychology/psychiatry.
Do you really think that football is that much more important than research?
Professor Robert R. Phelps, '58
UW Department of Mathematics
Great Recruiter. So-So Coach
As an alumnus of both the University of Colorado and the University of Washington, I enjoyed your article on Husky Football. The Buffalo Web sites and Denver press really let "Coach Neu" have it--as your quote from Mark Kiszla confirmed.
I met Coach Neuheisel at a coaches luncheon with Buff supporters. He is very charismatic and true gentleman. He showed us coaches film of the previous week's game and demonstrated how a single missed assignment can ruin a big play. For some reason, the Buff QB fumbled the snap at least once per game and missed a wide open receiver far downfield at least once a game. The young Buff line and backfield also made their share of mistakes.
Coach Neu was a great recruiter that often saw the talent in prospects that no other schools did. He successfully raided the State of Washington for top players, but for some reason never really tried to recruit the best players in the State of Colorado, players that ended up at top schools like Florida St., UCLA, and Texas. I anticipate that he will do great things for Husky recruiting. He left the Buffs with a some great players, but his departure really hurt Buff recruiting for the year.
On the other hand, Coach Neu never demonstrated great coaching ability. He appeared to hire his friends and refused to dismiss coaches that were not performing. Occasionally, the Buffs just never showed up to play (KU, MU). Afterwards he kept talking about how the team needed to "fix" things that they were doing wrong but they never did. Despite the reputation as a quarterback developer, he managed to keep Koy Detmer and Mike Moschetti continuously injured, destroyed the confidence of John Hessler, and failed to develop Jeremy Weisinger (ran a 4.27 40 but made bad decisions) and Adam Bledsoe (holds the ball to long and fumbles too much). He also has absolutely no clue about the running game.
I hope that I am wrong, but my fear that his hiring has raised expectations of Husky the faithful and that both he and the AD will be fired a few years down the road when expected improvement in the program does not materialize.
Both the Buffs and the Huskies appear to have improved the quality of their coaching staffs. It should be quite a battle come September.
Joseph A. Chinn
Austin, Texas