Husky Football Sees Surprise Coaching Turnover as Colorado Coach Rick Neuheisel Replaces Jim Lambright.
by Tom Griffin
During two weeks of drama not seen in Montlake since the Don James resignation over Pac-10 sanctions, the UW fired Football Coach Jim Lambright on Dec. 30 and hired Colorado Coach Rick Neuheisel on Jan. 11.
Calling it "the most difficult decision I've ever made as athletics director," Barbara Hedges fired Lambright after a 6-6 season and a 45-25 loss to Air Force in the Oahu Bowl on Christmas Day. Stating that she was concerned about "the long-term outlook for this program," Hedges told reporters it was "time for a new direction and new leadership. A change needed to be made."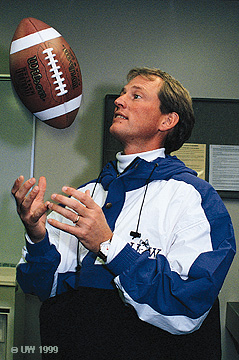 ---

New UW Coach Rick Neuheisel

---
Then she lured to Seattle a coach personifying that new direction, 37-year-old Richard G. Neuheisel Jr., the second-youngest head coach in Division I-A football who had just completed his fourth year at the University of Colorado with an overall record of 33-14.
The move surprised fans and reporters, who didn't have the Colorado coach on their radar screens. While Neuheisel initially wasn't interested, he grew to realize the job offer was "exactly the right thing, at exactly the right place, at exactly the right time," he reported.
"This is the place where I could realize all my goals as a college football coach." The former UCLA quarterback said it was exciting for him to be back in the Pac-10 and called Washington a " 'have' program" that will always be a "have." "At Colorado it was difficult-not impossible-to get things moving. It was slow, arduous," he explained.
To snag Neuheisel, Hedges offered him a seven-year deal with an annual salary of about $1 million-putting the UW into the top five in the nation in terms of coaching salaries. (Florida's Steve Spurrier makes the most at $2 million annually.) Hedges was quick to point out that "all of the revenues come from the athletic department resources, not from University resources, not from state of Washington resources."
In addition to his base salary, Neuheisel will receive outside compensation from University-related contracts with TV, radio and merchandise companies. There are also performance incentives tied to bowl games. Colorado paid him $630,000 annually and provided him with an $1.5 million home. Lambright's total compensation was $566,000
While some faculty and newspaper columnists questioned the salary, most players and fans hailed the hiring of what many call a "player's coach." The charismatic Neuheisel is known for his ability to quickly connect with student athletes, drawing on his own experiences playing at UCLA.
Neuheisel, who said his top priority is recruiting, seemed to win current UW players over when he announced at the first team meeting that he was bringing back gold helmets. Lambright had switched to purple helmets in 1995. "When he brought that gold helmet out, we all went crazy," said Quarterback Marques Tuiasosopo. "It was great."
During his time with the Colorado Buffaloes, Neuheisel was 3-0 in bowl games, including a 51-43 win over Oregon Christmas Day in the Aloha Bowl. His first two Colorado teams finished in the top 10 of national rankings. Before leading the "Buffs," he spent six years as an assistant coach at his alma matter, UCLA, under Terry Donahue, where he groomed quarterback Troy Aikman.
He started his own college football career as a walk-on, holding the ball for UCLA kicker John Lee. In a rags-to-riches tale, he beat out Steve Bono for the job of starting quarterback during his senior year, leading the Bruins to the 1983 Pac-10 championship and a 45-9 victory over Illinois in the 1994 Rose Bowl. He was named most valuable player in that contest, having completed 22 of 32 passes for 298 yards and four touchdowns.
While this will be Neuheisel's third stop in his coaching career, the 57-year-old Lambright, '65, spent 30 years as a player and a coach at Washington. The record books show that he participated in more than 400 of the 980 games Washington has played since football started in 1889.
---

Former UW Coach Jim Lambright

---
As head coach, Lambright's six years saw a 44-25-1 record. At the Dec. 30th press conference announcing his departure, Lambright said he was "surprised and shocked" by the firing. "I believe I have left the program in better shape than when I got it," he declared. He pointed out his overall record (.642?) was against some of "the toughest opponents" in the nation, and that this season's class was the one most harmed by scholarship restrictions imposed by the Pac-10 in 1993 and 1994.
Asked what he would have done differently, Lambright said, "The only thing I would second guess is that I needed to be more political." He suggested that some football boosters pressured Hedges to make a change, which Hedges denies. "I have not been pressured by any group," she stated.
An Everett native, Lambright played linebacker and other positions under Husky Coach Jim Owens during the 1963 and 1964 seasons, and came back as an assistant coach under Owens in 1970. He was the only Owens assistant to serve through Don James' entire tenure, 1975-1993. As James' defensive coordinator, he helped lead the 1991 team to a national championship.
Less than two years later, the Pac-10 imposed heavy sanctions on the team for 15 NCAA rule violations, which prompted James to announce his retirement two weeks before the first game. Lambright stepped in as head coach; the team beat Stanford 31-14 in its opener and finished 7-4, the most wins ever by a first-year coach at Washington.
Lambright did not say if he would coach again, but said he would still support the Huskies. "I will always bleed purple and gold. That is a part of me that very few of you will ever understand," he told the assembled reporters.
The new coach had praise for his predecessor. "I have been a great admirer of guys like Don James and Jim Lambright," Neuheisel said. "I spoke to both before accepting this job." He said it was obviously a difficult time for Lambright. "I want his support and I'm very happy to report that he unequivocally gave it," Neuheisel said. ·Tom Griffin is editor of Columns.