Credit Card Program 'Exceptional;
Funds Support Students, Alumni
Since its kickoff in February 1998, more than 11,000 alumni and friends have signed up to support important student and alumni programs with their UW credit card, sponsored by First USA Bank.
First USA Assistant Vice President Rick Waxman says, "Alumni reaction to the UW credit card has been phenomenal, with an exceptional response rate in the first year of the program."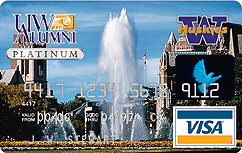 In May 1998, First USA introduced a new card design-the National Crew Champions card featuring an overhead view of the UW crews racing in Montlake Cut. The new design honors the UW's outstanding crew tradition and adds a third choice to the popular Drumheller Fountain and Husky Stadium designs.
As an added bonus to UWAA members, the UW credit card features an extremely competitive variable interest rate of 9.99 percent. Non-members receive a rate of 13.9 percent, and both member and non-member cardholders receive an introductory rate of 3.9 percent for their first five months. Alumni may apply for the official UW credit card by calling 1-800-FIRSTUSA.
Another new benefit offered to UW Alumni Association life members is National Car Rental's Emerald Club Aisle Service. Club members bypass the rental counter and go directly to the Emerald Club aisle to personally select their rental car. There's no paperwork, reservations may be made as little as one hour in advance, and your frequent flyer miles are credited automatically. This offer applies to life members who have paid their life dues in full.
To receive an application for the Emerald Aisle Club (a $50 value), call the UW Alumni Association at (206) 543-0540 or 1-800-AUW-ALUM.
All alumni association members are entitled to a 10 percent discount on National's regular business and leisure rates; just mention the UWAA ID# 5435485 when reserving your car.
If you're not currently a member of the alumni association, you can join by calling (206) 543-0540 or 1-800-AUW-ALUM.