Rick Neuheisel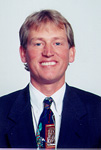 Born: Feb. 7, 1961 in Madison, Wis.
Coaching Career
Overall record: 33-14
Colorado head coach, 1995-98; Colorado QB/WR coach, 1994; UCLA QB/WR coach, 1988-1993; UCLA graduate assistant, 1986
Playing Career
NFL: San Diego Chargers , 1987; Tampa Bay Buccaneers , 1987;
San Antonio (USFL), 1984-85
College
UCLA, 1980-1983
B.A. degree, political science, UCLA; law degree, USC.
Family
Wife, Susan, and sons Jerry, 6, Jack, 4, and Joe, 1.
Jim Lambright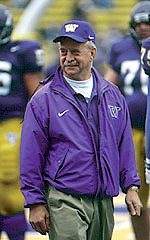 Born: April 26, 1942, Everett, Wash.
Coaching Career
Overall record: 44-25-1
UW head coach, 1993-1998; UW assistant coach, 1969-93; Shoreline Community College, assistant coach, 1966-69; Fife High School, assistant coach, 1965-66
Playing Career
College
UW, 1963-64
B.A. degree, education & physical education, UW
Family
Wife, Lynne, children Kris and Eric Lambright, Brad and Bart Mackie and Regan Campbell.