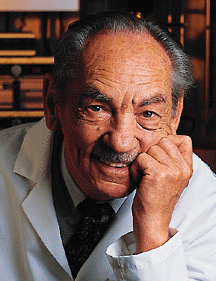 George H. Hitchings
[Editor's note: George H. Hitchings died on February 27, 1998, just a few days after this issue was printed.]
George H. Hitchings, '27, knew he'd been considered for the Nobel Prize in medicine. He'd already received many other awards for his basic research on designing drugs, which led to the development of medications for various cancers and bacterial infections, as well as AIDS, herpes, gout, malaria and transplantation.
Still, he was surprised when he won. At 83, he thought he was too old to be considered anymore, though he was still hard at work in science and philanthropy, as president of the Burroughs Wellcome Fund in Research Triangle Park, N.C.
His only regret was that his first wife could not be by his side when he accepted the prize. Beverly Reimer Hitchings died in 1985, after 52 years of marriage.
His second wife, physician Joyce Shaver Hitchings, shared Hitchings' story, as he is now blind, has Alzheimer's disease, and could not be interviewed. "He's still enjoying family, old friends, music. The physcial beauty of Nature has become more vivid," she says. "We live near a lake, which reminds him of Puget Sound and Friday Harbor, where he did research."
In September 1988, shortly before the prize announcement, Hitchings had started a whirlwind courtship with Joyce Shaver, 26 years his junior. When the prize was announced the next month, she recalled, "My first thought was, `Oh no, I've lost him to the world.' "
But in a few weeks, on Halloween, he asked her to marry him. "Actually, he announced, `Incidentally, you're my fiancÈe now,' while I was driving him to an event in the pouring rain."
They were married in February 1989, after attending the award ceremonies in Stockholm, together with Hitchings' family and with a man whose multiple myeloma had been treated by a drug that Hitchings developed.
"On the day he received the prize, he said, `The real gift is not the prize itself, but the individual people who his medicines had helped," says Mrs. Hitchings.
Hitchings gave all of his prize money to the Triangle Community Foundation, which he founded in 1983. The foundation funds services in the Research Triangle Park area that wouldn't be provided otherwise, including health care for the poor, sending disadvantaged children to camp, and protecting battered women.
Hitchings' father, a shipbuilder and community leader in Hoquiam, died when Hitchings was only 12, after an illness that sparked Hitchings' interest in medicine. When Hitchings was salutatorian at Seattle's Franklin High School, his teacher gave him a biography of Louis Pasteur, who became a role model as a humanitarian as well as a scientist.
After winning the prize, Hitchings continued to travel and lecture often, as he had for many years. In his lectures, he always showed his favorite slide: a beautiful young Pakistani woman in her wedding dress. Her life had been saved when her infant infection responded to a free sample of an antibiotic that Hitchings had developed and that a Burroughs Wellcome salesman had happened to leave with her doctor.
Hans Dehmelt, 1989 Prize in Physics
E. Donnall Thomas, 1990 Prize in Medicine
Edwin Krebs, 1992 Prize in Medicine
Edmond Fischer, 1992 Prize in Medicine
Martin Rodbell, 1994 Prize in Medicine
Return to the Beginning of "After the Prize"
Send a letter to the editor at columns@u.washington.edu.