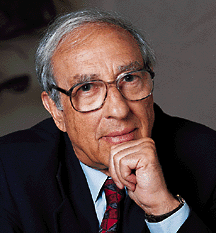 Edmond H. Fischer
Edmond H. Fischer says winning the prize can be "a bizarre business that catches you off guard.
"The first question is: `Why us?' There are so many brilliant people working, including ones we've recommended." For a decade, he and Krebs had been among the thousand scientists asked to submit nominations for the prize.
"If you get a gold medal in the Olympics, you know why. You came out first," he says. "In science, it's so different. You do your thing, working without thinking about this or any other award. Then all of the sudden in the middle of the night you get a call."
That's how it happened for Fischer. He'd just returned from a trip to Italy in October 1992, when the telephone rang in the dark and woke him from a deep, jet-lagged sleep. An unfamiliar voice asked, "Are you Dr. Fischer?"
"My first thought was, `Who is this guy? Does he want to sell me stocks, or replace the gutters on the house?' "
"Are you Dr. Fischer from the University of Washington medical school?" the voice asked. " `Yeah,' I said. `Whaddya want?' `Congratulations,' said the voice. `This is CBS in New York. You've just won the Nobel Prize, along with Dr. Edwin Krebs.'
"At first I didn't believe it," says Fischer. "But the moment he mentioned Ed, I woke up. I put the lights on. It was 3:45 a.m. As soon as I put the phone down, it rang again."
Finally the phone stopped ringing for a second, so Fischer could wake his wife, Beverly, who was ill and had taken a sleeping pill. "She was totally zonked, and just said, `Oh.' "
At 5 a.m., Fischer called his longtime secretary, Carmen Westwater, to suggest that she watch the 6 a.m. news on television. "Something happened that's going to cause you lots of work," Fischer said.
"Don't tell me," she replied. "I know. You lost all your plane tickets. Again."
Born in Shanghai, China, and educated in Switzerland, Fischer was a Swiss national before becoming a U.S. citizen. A courtly gentleman, the UW professor emeritus of biochemistry recently closed his lab but still works in his office every day.
Fischer recalls the trip to Stockholm with family and friends with special fondness. "We all stayed in the Grand Hotel, overlooking the bay. Ed and I had been good friends, but after that week, we felt like family. It was a family affair, very warm," says Fischer.
The Nobel week of dinners, balls, ceremonies, concerts and exhibits was a "beautiful experience," he says. "It felt like floating. After being treated like a king, you want to isolate yourself to come back to Earth."
Not long after, the Muscular Dystrophy Association, which had supported their research, asked Fischer and Krebs to appear on a show to thank the television stations that had carried the famous MDA telethon hosted by Jerry Lewis.
"We were expected to follow an absurd TelePrompTer script about how we'd been striving for the prize--which of course we hadn't ever done," says Fischer.
Some other scientists were there, and they were following their scripts. But Fischer and Krebs decided they couldn't. Instead, they filled their minutes of airtime with their own thoughts.
" `How has your life changed since the Nobel Prize?' they asked us. We said, `Here's how: You see that limo waiting for us downstairs? Two years ago, it would have been a Yellow Cab instead.' "
George Hitchings, 1988 Prize in Medicine
Hans Dehmelt, 1989 Prize in Physics
E. Donnall Thomas, 1990 Prize in Medicine
Edwin Krebs, 1992 Prize in Medicine
Martin Rodbell, 1994 Prize in Medicine
Return to the Beginning of "After the Prize"
Send a letter to the editor at columns@u.washington.edu.