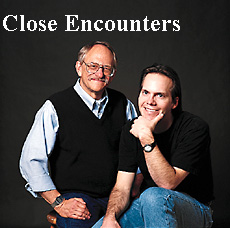 By Jon Marmor
John T. Konecki had it made. On the quiet Sunday afternoon of Sept. 11, 1992, the 42-year-old UW graduate student-coffee lover-gadget maker was at the controls of his own plane, a Cessna 170 he named Felix, flying over the San Juan Islands. The woman he loved, his wife Susan, 39, was at his side. Two of his best friends, Sarah and Richard Hacker, both 52, were in the back seat. They were headed for a hiking trip on Lopez Island.
It was a flight Konecki could probably do in his sleep, he had done it so often. The plane was approaching jagged cliffs on the edge of the island, into the typically gusting winds that sweep up the Strait of Juan de Fuca. But this time, wind shear thrashed the little plane, causing Felix to sputter and stall. It went into a nose-dive, plunging 1,500 feet down like a bullet, into an open field. The foursome was killed instantly, just a quarter of a mile from the airstrip.
The news devastated the foursome's many friends. Tom Quinn was one of them.
Konecki was studying fisheries science at the University of Washington. Quinn, who was about the same age, was his professor, adviser -- and good friend. They had flown together to Oregon and Alaska, dined with each other's families, worked on research projects together. Quinn was pleased and proud that an older graduate student like Konecki was close to earning his Ph.D. after spending years studying the effects of temperatures on Coho salmon.
Before the shock of the tragedy began to wear off, Quinn knew instinctively what he had to do: publish the three research papers Konecki was working on at the time of his death. It was a daunting task, taking over someone else's sweat, research, experiments, data, intuition and findings and make them publication-worthy. But Quinn never hesitated. "I knew it was a big deal for him to go back to school at his age," Quinn says, "and I knew his family was aware of him pursuing his dream. It was the right thing to do." So he contacted Konecki's mother, back in Maine, as well as the agencies and foundations that sponsored Konecki's research. "I made a promise that I would publish his work," Quinn says.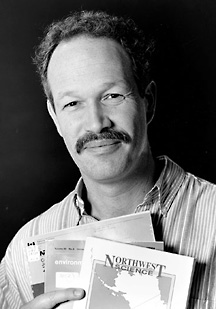 ---
Fisheries Professor Tom Quinn holds the three research journal's with his late-student's research papers. Photo by Mary Levin.
---
He had little idea what was in store. Konecki's data -- computer disks, papers, files -- were all over the place: at his Vashon Island home, in his car, in his lab at the Fisheries Building on the UW campus, at a lab near Hood Canal. Moreover, despite years of meticulous data collection, Konecki had not started writing any manuscripts. Quinn first had to figure out what Konecki had, hire a helper to painstakingly reconstruct what there was, then work up detailed, scientific research papers worthy of peer-review journals. It was like working in the dark.
But in the spring of 1995 came the light at the end of the tunnel: Three different journals accepted for publication the works of the first author, the late John T. Konecki.
"There was no question I was going to see this through," says Quinn, a UW professor for the past 11 years and, not surprisingly, a winner of a UW Distinguished Teaching Award. "I had to follow through for him."
Rising from the Ashes: Blaze Bonds Professor, Students
President Calls for More Undergraduates Involved in Research
Undergrad Designs New Instrument to Measure Hot Springs on Ocean Floor
Partially Sighted Student Is Valued Member of Botany Research Team
Send a letter to the editor at columns@u.washington.edu.