When Mae Drummond came to study at the University of Washington after several years in the Air Force, she knew no one, encountered huge lecture halls, didn't know her professors, and was a little intimidated to get involved in campus activities.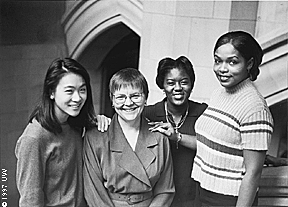 ---
Alumni and student mentors make a difference for first-year UW students. Left to right are Ada Leo, student mentor; Antoinette Wills, career mentor; Mae Drummond, student protégée; and Porche Jeffrey, student protégée. Photo by Jon Marmor.
---
But through the Educational Opportunity Program's Mentor Program, the UW reached out to her. Drummond, 27, was paired with Antoinette Wills, a UW employee who was Drummond's career mentor, and Ada Leo, a 21-year-old senior who was her student mentor. Meeting Thursday mornings for coffee, they talked about everything under the sun, and all came away better for the experience.
"Since I was working, going to school, didn't know anyone ... having someone to talk to on a regular basis made a big difference to me," says Drummond, an EOP student now finishing up her last year as an economics major. "It was like a breath of fresh air to be able to get some advice and friendship."
Thanks to 40 volunteer mentors, EOP students at the UW can have the same sort of guidance. The EOP's Mentor Program volunteers act as supportive, positive role models for about 100 EOP students. The program serves minority and disadvantaged white students at the UW.
"It helps you navigate a big place like this and get a feel for things," says Porche Jeffrey, a single mom and an EOP student who came to the UW after three years at Hampton University in Virginia. "Especially in my case--I had attended a historically black college where classes were small. Here it is very different."
Wills, a writer in the UW's development office, has served as a mentor for three years. Growing up in a Polish immigrant neighborhood in Philadelphia, she says she has lived the American dream by getting an education and wants to help others, too.
"We don't always have the answers but we are here to listen and maybe help a student find the answer," she says. "I become friends with students and they become friends with me. It is a very rewarding experience."
Alumni mentors are needed now to help first-year students this fall. A kickoff orientation is planned for September. For more information on the Mentor Program, cosponsored by the Multicultural Alumni Partnership, contact Kay Larson at (206) 685-9274 or 1-800-AUW-ALUM or e-mail Larson at kaylars@u.washington.edu.
Send a letter to the editor at columns@u.washington.edu.