The 1991 National Championship Football Team heads the list of inductees for the 1997 Husky Hall of Fame Celebration presented by Channel 11 CBS. The celebration is set for 6 p.m., Friday, April 25 at Hec Edmundson Pavilion and will be catered by Metropolitan Catering. Tickets cost $60 for UWAA members and $65 for non-members. For more information call the alumni association at (206) 543-0540 or 1-800-AUW-ALUM. The following is a brief look at the 1997 members:

1991 FOOTBALL TEAM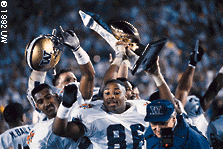 ---
Members of the 1991 UW football team celebrate their Rose Bowl victory on New Year's Day. Photo by Irene Fertik.
---
Don James coached the 1991 team to a 12-0 season that culminated with a 34-14 victory over Michigan in the Rose Bowl. That convinced enough voters in the CNN-USA Today Coaches polls to rank the Huskies No. 1 over Miami. creating a tie for the national title with the Hurricanes, who were voted No. 1 in the final Associated Press poll. The 1991 UW team had four captains: Mario Bailey, Brett Collins, Ed Cunningham and Donald Jones. It featured seven All-Americans, led by Steve Emtman, who won the Outland Trophy and Lombardi Award and was the No. 1 pick in the NFL draft. Twelve Huskies from that squad were drafted by the NFL.
VICKI BORSHEIM, TRACK AND FIELD
Vicki Borsheim still ranks among the best female high jumpers ever produced by the UW. She won the 1987 Pac-10 title, was a two-time All-American and finished second in the 1988 NCAA championships. Her school record of 6 feet, 2 3/4 inches still stands today.
GORDON McALLISTER, SMALLBORE RIFLE
One of the few four-year lettermen at the UW, Gordon McAllister led the Husky rifle team to three Northwest Intercollegiate team titles in the 1950s. A three-time All-American, he was the Northwest Intercollegiate individual rifle champion in 1955 and the NROTC champion in 1953.
Send a letter to the editor at columns@u.washington.edu.