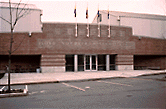 The Nordstrom Tennis Center
---
The UW Alumni Association announced in January that paid-in-full life members may use the indoor tennis courts at the Nordstrom Tennis Center. Named for Lloyd Nordstrom, former UW varsity tennis star, this first-class facility houses six indoor courts and is the training center for the UW men's and women's tennis teams.
During fall, winter and spring quarters, life members may reserve courts on weekdays 8 a.m.-1 p.m. with two-day advance reservations and 6-11 p.m. with same-day reservations. On weekends, life members can play tennis 8 a.m.-9:45 p.m. with two-day advance reservations.
During summer quarter, court reservations will be accepted all week during regular operating hours (weekdays 8 a.m.-11 p.m., weekends 8 a.m. -9:45 p.m.) with two-day advance reservations.
Players may reserve one court only for a one-and-a-quarter hour period. Fees are $13 per court, plus an additional $2 for each guest player. To make reservations, call (206) 543-8185 or (206) 543-8184 and be sure to mention you are a life member of the alumni association. You must also show your life member card when you come to the courts.
The tennis center is located just northeast of Husky Stadium. Campus visitors may park in the E-1 Montlake lot for $1.50. If you would like to become a life member, call the UWAA membership department at (206) 543-0540 or 1-800-AUW-ALUM, or send e-mail to uwalumni@u.washington.edu..
Send a letter to the editor at columns@u.washington.edu.