---
December 1995 Columns
---
What Do You Want, Disneyland?
As a temporarily displaced U-District homeowner, I read with interest your story on the "fall" of the Ave. "The Fall (and Rise?) of the Ave.," December 1995. Lighten up, guys! While I realize that there are real problems to be dealt with, the Ave. is a great college street. Instead of scaring your readers away with doom and gloom outlooks, why not celebrate the Ave.?

I don't have room here to list all the things I miss, but just for a start, what about the three movie theaters and two live theaters, unique stores like La Tienda, House of Rice, the Soap Box, Shiga's One World and the Woolly Mammoth, all those used bookstores, record stores with real vinyl, coffeehouses like Espresso Roma and the Allegro, Bulldog News, vintage and consignment clothing shops, and relative newcomers like the Big Time Alehouse? How about the city's highest concentration of ethnic restaurants? And socks! You want socks? How about MJ Feet, Windfall, University Book Store or the Dawg House?

Everyone misses Carter's Deli (it left while I was in school) but let's not confuse nostalgia with the "end of the Ave."

Dangerous? New York City is dangerous. What do you want, Disneyland? Bellevue Square? And blaming the kids or the homeless for the Ave.'s decline is shameful. I'd look to the greedy landlords and snobby yuppie mall-shoppers. To them I say, "Get real! Live life! Love the Ave.!"

Kathy Wright, '84
Syracuse, N.Y.

What has become of University Way is indeed sad, but scarcely surprising. The UW has engendered a dense, surrounding population of transient students who only subsist in the community and are no part of the private enterprise environment. The profusion of student automobiles eliminates any prospect of convenient parking (except for commuter students), thus deterring outsiders from visiting the district. A misplaced sense of sociological tolerance has allowed the Ave. to become the roost of undesirable vagrants. The expansion of the campus has taken up land that otherwise might have been available for housing (or parking). All these factors, coupled with high rents and increasing property taxes, drive out established families and businesses.

Were faculty and staff actually to live in the district, were the University to have not encouraged massive student commuting, and were resident students content to be pedestrians or bicyclists, there might have been a community of interest. However, the desire to live elsewhere and to travel widely by automobile has made that impossible. It was only a matter of time before the effects of this atomization would erode the foundation of the community and turn the Ave. into a convenience arcade.

Michael J. Dunn, '72
Auburn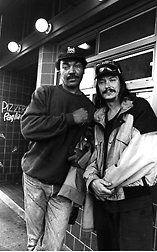 ---
Photo by Jon Marmor.
---

I read "The Fall (and Rise?) of the Ave." with great disappointment. I am particularly concerned by the article's suggestion that street youth on the Ave. are detrimental to it and are contributing to its alleged demise.

The Ave. is one of only a few safe places for children who flee abusive and neglectful homes. National studies indicate that among homeless and runaway youth, 75 percent are fleeing abuse or neglect by a parent. King County statistics correlate to the national ones. Thus, youth on the Ave. are very often fleeing danger and are fighting for survival. Making the Ave. hostile to youth will drive these abused children further underground into the world of predators, pedophiles and chickenhawks.

Rather than allocate scare resources to widening the Ave.'s sidewalks, as the article suggests, I support using resources to provide transitional housing, services and shelter for street youth. ... As socially responsible patrons of the Ave., we should make it a priority to reach out and assist Ave. youth. At a minimum, if we choose not to devote resources to help street kids out of abusive environments, let's at least let them stay on the Ave., an area which is safer for them than the alternative.

Yvonne Ward, '90
Seattle

I was encouraged to see the article "The Fall (and Rise?) of the Ave." in your December 1995 issue. I think, however, two issues were slighted--one passed over entirely and the other barely mentioned ("the flood of street kids and homeless people to the area"). Both of these I see as crucial. The University is just not the same as it was in the '50s when enrollments were such that it would support only one copy shop. Parking was still manageable. One could only expect changes since then. The University now is even a major tenant off campus.

Regarding the street kids and homeless, we do have a problem that light rail and condos will not solve, but drive elsewhere. We have a society moving to three-strikes-and-you're-out rather than embracing even first chances, let alone second ones.

I am one of the fortunate--six years of college, 25 years in a career field, and I still do have an income and bed and board, though in present society both are at risk. ... What chance is there for a high school dropout, alienated from family or repeat generations of welfare, the victim of the chemicals that can be ever so appealing, as, at first, they promise a little joy, a little peace?

How long will we go on in this so-called land of opportunity, hobnobbing only to the needs of those who've got it made? We even have that term now, "corporate welfare." Sorry, your article missed the point. As much as ever, just as in the '30s or in my '50s, there are people out there. They are the Ave. Notice them. Love them. Give them care.

Wesley D. Johnson, '56
Seattle

With the exception of Scott Soules' comments, "People's shopping habits have changed," reality is totally ignored in the Ave. article.

Giving credit where credit is due to the visionaries--Professor Doug Kelbaugh, his charrette students, Architecture Associate Dean Anne Vernez Moudon and Cal McCune, with his 1969 mall vision that just might have worked--their ideas are not without merit.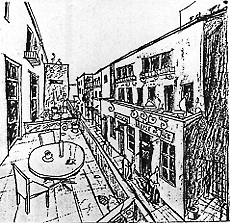 ---
Design of Ave. alleyway from UW Architecture charrette.
---

Social engineers that they are, however, they can only see things as how they should or could be if only everyone would cooperate, act and live according to the plan. Social engineering is the child of socialism, which has the best of intentions, that of making the world a better place in which to live. Unfortunately, to accomplish this, control is required and as a free society we are unwilling to live as a select few deem we should.

... Kelbaugh seems determined to cram as many humans into the area as possible regardless of the obvious consequences. His vision: "Neighborhood resident come here to do their everyday shopping. Folks from the Puget Sound region ride light rail to hit a trendy restaurant before heading to campus." ... Not a touch of reality anywhere.

Most of all, what is missing is the acceptance of the car as the preferred means of transportation of most people. Urban planners can't seem, or are unwilling, to accept the car as a reality, like it or not, that is here to stay and has to be dealt with. Successful retail marketing depends on accessible parking. It is useless, if not downright stupid, to waste time and creative energy pretending people can be convinced to give up the safety and mobility of their cars for light rail, bicycles, walking or any other type of transportation.

University Way is destined to evolve as the needs of those who work and live in the area are met or not met. Christine Curtis is closer to the mark with her incremental improvement, the Farmers Market. A need is recognized, met and is successful. Urban planners too often fail to realize these needs cannot be contrived or artificially imposed as part of a grand redevelopment plan. They come about naturally.

Rod Gallagher, '51
Seattle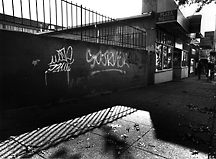 ---
Photo by Jon Marmor.
---

I was interested to see Jon Marmor's article about the Ave. and its decline. When I was up in Seattle last fall, I remember it looking like Venice, Calif., minus the sunshine and occasional roller-blading Sikh.

The article seemed to indicate that the Ave. has declined from halcyon days to its present state. However, it seems to me that the late '60s found the Ave. in a similar state. While University Way had nothing on Haight-Ashbury, it did have color--miles of paisley and cheap Indian bedspreads, high school hippies selling copies of the Helix, and a thousand dogs named Siddhartha.

We can all wax nostalgic for the days of Puss 'N Boots, the Pamir House, the Eigerwand (later the Last Exit on Brooklyn), Morningtown Pizza and two (count 'em, two) competitors to the University Book Store. But I also remember the drug deals and drug busts, the paranoia and the smack heads barfing in the doorways; it was not a pretty time.

The early '80s did gentrify the area, but made it inaccessible to many of the students. ... The UW deserves a more vital, more democratic community. The University brings in a sizable market for the Ave.; the Ave., in turn, would do well to see that the needs of the students are met.

Carol Stelmack Tensen, '73
Burbank, Calif.

Jon Marmor's article, "The Fall (and Rise?) of the Ave.," evoked many memories not only of my college years, but of my first years in the U.S. as a teen-age immigrant from the Netherlands.

I literally grew up on the Ave. At the age of 14 and before I spoke much English, my father drove me up and down University Way where I entered every commercial establishment between 45th and 50th, looking for a job. While I started out at Campus Drugs, I soon progressed to the Miller Pollard interior design store, where I worked on and off through high school and my first few years at the UW. It was there that I developed my interest in a career in art.

Your 1956 photo brought back other memories. My first checking account was at the Pacific National Bank on the corner. When I first dated my wife (Diane Power, whom I met at the UW)., she lived above Bartell Drugs. At the Otto Seligman Gallery I got my first taste of artists like Mark Tobey and Morris Graves.

Many thanks for evoking so many strong memories. Whenever we return to Seattle, we rarely miss an opportunity to stroll along the Ave., enjoying its energy and diversity.

Willem Volkersz, '65
Bozeman, Mont.

I chuckled when I read the article on the Ave. following my experience during the Golden "W" Reunion of the Classes of 1944-46 last October. My wife and I stayed at the Meany Tower Hotel and at 4 p.m. started to get ready for the parties in downtown Seattle. To my dismay, I left a white shirt at home.

So I strode down the Ave. to seek a men's clothing shop, for 50 years ago I remember there were such things. For two blocks north and south, on both sides, I could have bought a ton of coffee and used clothing, and spent hours talking to the kneeless-jeans group, but no place to buy white shirts. Things have changed.

... The problem was resolved when the yellow pages told me about the mall at the bottom of the 45th Street bridge. The mall wasn't there in my time. Good success--high prices, but it saved the day. Yes, the Ave. ain't what she used to be.

Roger M. Melrose
Hilsboro, Ore.

I read with great interest the article on "Nude Coed Research Exposed" [Our Back Pages, Dec. 1995]. It goes back even further than 1950. I was an embarrassed P.E. student in the fall of 1927. Women P.E. students were subjected to this. We had to accept it but didn't like it. I remember ... me wearing nothing!

B. Ruth Jeffries, '31
Seattle

Somehow, without my being quite aware of it, you've made Columns a vital and most readable magazine. Thank you, and congratulations for that. What a great favor to the University, and all of us who are alumni. Great work!

Jack Lenor Larsen, '49
New York

Poor Mr. Sorber. I'm so happy that he doesn't have to put up with Mike Luckovich in the Atlanta Journal/Constitution; his loss is our gain. [See comments about Cartoonist Mike Luckovich in "Head-in-the-Sand Cartoonist," Letters, December 1995].

Luckovich arrived a few years ago demonstrating an iconoclastic style from day one. While I can't say I agree with everything Mike has drawn, his work is devastatingly effective. He was one of the first to savage the pomposity of our Speaker Newt Gingrich, and no elected public official is safe within drawing range, including yours truly. Luckovich has been a gift; he has a sophistication and irreverence matched by few political cartoonists in the country.

We're glad to have him and I'm proud to call him a fellow alumnus of the UW.

Judge Clarence F. Seeliger, '63
Decatur, Ga.

Your December 1995 issue included a political hate letter from a resident of Newport Beach, Calif., a 1948 graduate who wrote that he considered himself "very fortunate to have attended school before it became the People's Republic of Washington" [see Letters, December 1995].

I have no way of judging whether the proud author of that letter includes the editorial board of Columns among the "ultra-liberal-left-wing, closed minded" set, but I feel it important to view the record in the perspective of the times.

... I [remember] the Republican-dominated Canwell Committee, as it destroyed the careers of individuals who preceded the "raving liberals" under whom I studied. I hold vivid memories of a six-year reign of academic terror from 1948 until the downfall of a famed senatorial demagogue from Wisconsin.

It seems amusing for a reactionary dittohead to use terms such as "close-minded" and "liberal" in the same sentence. ... Who can forget the inane debates generated by do-gooders who wanted people to sign loyalty oaths?

Roderick Dimoff, '52, '55
Seattle

Letters to the editor are encouraged. Brief letters are more likely to be published; longer letters may be edited due to lack of space. Please include a daytime phone number and send your letter to the editor at columns@u.washington.edu.

.