AS IT HAPPENED
A TIMELINE OF THE GERBERDING ERA
1979
July 1: William Passavant Gerberding becomes 27th president of the University of Washington. Fund-raisers report drawing a record $7.5 million in private gifts during 1978-79.
Nov. 4: 66 Americans taken hostage at U.S. Embassy in Tehran; 13 freed soon afterwards.
Dec. 28: Soviet troops invade Afghanistan.
1980
May 18: Mt. St. Helens erupts, 65 dead in blast.
Nov. 4: Ronald Reagan elected 40th president, defeating Jimmy Carter.
Dec. 8: John Lennon killed by assassin in New York.
1981
Jan. 20: Hostages freed from U.S. Embassy in Iran after 444 days of captivity.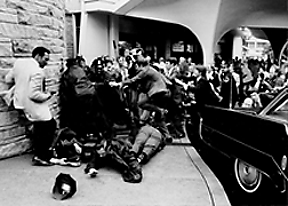 White House Photo
March 30: John Hinckley tries to assassinate President Reagan.
July 1: Nancy Jacob becomes dean of business school, first woman to head a U.S. business school.
July 29: Prince Charles weds Lady Diana Spencer.
September: Legislature called into special session, orders a $17.4 million cut in UW budget.
October: UW cuts or reduces state funding to 28 programs.
Dec. 13: Martial law declared in Poland.
1982
Jan. 1: Huskies beat Iowa in the Rose Bowl 28-0.
April 2: Argentina invades Fakland Islands; British invade in May; Argentina surrenders June 14.
April 28: Legislature makes additional cuts of $13 million and defers faculty salary increase for one year. Salary gap between faculty and peers is 8.7%.
1983
March 7: Queen Elizabeth II visits UW. Photo of Queen and Gerberding by Davis Freeman.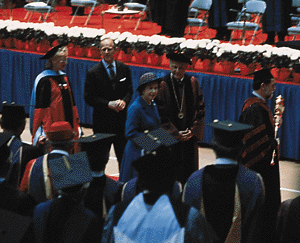 Aug. 26: Regents approve budget cuts totalling $30.7 million. UW eliminates 24 degree programs including art education, child drama, kinesiology, nutritional sciences and textiles, social management of technology and outdoor recreation.
Oct. 23: 241 U.S. Marines killed in car-bomb blast in Beirut.
Oct. 25: US invades Grenada, first combat mission since 1975.
1984
Jan. 20: Gerberding warns regents that UW is slipping in its national standing, calls it the "sick man" of American higher education.
March 5: President accepts report reorganizing three ethnic studies programs into one department.
July 29: Los Angeles Olympics opens, USSR boycotts competition.
Sept. 30: UW reinstitutes Freshmen Convocation.
Nov. 6: President Reagan re-elected in landslide over Walter Mondale.
1985
June 10: Legislature passes budget. Out of all the state's employees, only UW and WSU faculty see salary raises. Faculty salary peer gap at 13.3%.
Aug. 21: UW Medical Center's first in vitro fertilization babies are born.
Oct. 2: Rock Hudson dies of AIDS.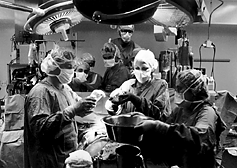 Dr. Margaret Allen holds the transplanted heart. Photo by Davis Freeman.
Nov. 18: Northwest's first heart transplant performed at UW Medical Center.
1986
Jan. 26: Challenger Space Shuttle explodes.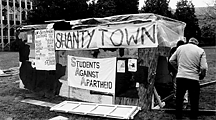 April 20: Students build a "shantytown" on HUB Lawn to protest investment in South Africa. Photo by Mary Levin.
April 26: Chernobyl nuclear accident in Ukraine.
June 14: Due to demand for tickets, UW splits commencement into morning and afternoon ceremonies.
June 16: President reports faculty "brain drain;" other colleges make offers averaging 53 percent above UW's professors current salary. Faculty pay gap at 14.1%.
Aug. 22: Regents vote to divest UW investments in companies doing business in South Africa.
Nov. 25: Iran/Contra arms sales scandal revealed.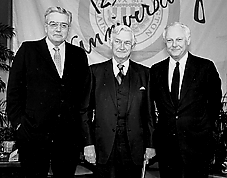 The three living UW presidents, left to right, John Hogness, Charles Odegaard and William P. Gerberding at the 125th anniversary celebration.
Dec. 5: UW celebrates its 125th anniversary.
1987
Feb. 25: North Stands Addition to Husky Stadium collapses while under construction, but the addition is still completed in time for the September opener with Stanford.
May 18: Legislature passes budget with 15.7% increase for UW, makes significant headway in narrowing faculty salary gaps and strengthens support for libraries, computers and academic support. Over two years, faculty get a 17.6% pay increase.
Oct. 16: UW is designated the "lead university" for developing branch campuses in the central Puget Sound area.
Oct. 19: Stock market plunges 508 points.
Dec. 3: UW asks for volunteers in first AIDS vaccine trials.
1988
May 20: A $1-billion plan for upgrading science and engineering facilities over the next 10-15 years is announced.
June 27: UW replaces Sections registration with automated system using a touch-tone phone.
Aug. 15: UW proposes sites for branch campuses in Tacoma and the Bothell-Woodinville area.
Oct. 28: UW Libraries receives a $10 million gift from Microsoft co-founder Paul Allen. A new library under construction is named after his late father, Kenneth S. Allen, who was the libraries associate director for 20 years. Photo of Kenneth S. Allen Library by Davis Freeman.
Nov. 8: George Bush is elected 41st president, defeating Michael Dukakis.
1989
Feb. 25: Obscure rock band called Nirvana plays at the HUB Ballroom.
March 24: Exxon Valdez oil spill dumps 11 million gallons in Alaska's Prince William Sound.
May: Legislature gives UW second significant budget increase. Salary gap stands at 9.4%.
June 4: Tiananmen Square massacre in China.
June 30: UW royalty income from patents passes $1 million mark.
Nov. 3: UW announces $250-million Campaign for Washington, the institution's first major fund drive.

Left to right, President Gerberding, Physics Chair Mark McDermott and Nobel Laureate Hans Dehmelt.
Oct. 12: Physics Professor Hans Dehmelt shares the Nobel Prize in Physics, the first UW faculty member to receive a Nobel honor.
Nov. 9: Berlin Wall opens, signals end of Communism in Eastern Europe.
Nov.18 : Students tear down goal posts during melee after victory over WSU.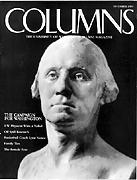 Dec. 1: Columns Magazine debuts, incorporating two previous UW publications. It is sent to 150,000 alumni and donors.
1990
Feb. 11: Nelson Mandela freed from prison in South Africa.
May 18: Wallace Loh appointed dean of law school, first Asian-American to hold such a position in the U.S.
July 20: Goodwill Games open on campus.
Aug. 2: Iraq invades Kuwait.
Oct. 1: Branch campuses opened at temporary sites in Bothell and Tacoma.
Oct. 3: Germany is reunified.
Oct. 8: E. Donnall Thomas, professor emeritus of medicine, receives Nobel prize in medicine for work done at Fred Hutchinson Cancer Research Center.
1991
Jan. 15: Mike Lude retires after 14 years as athletics director. On May 20 Barbara Hedges is named the new athletics director, the second woman to head an NCAA Division I program.
Feb. 28: Operation Desert Storm frees Kuwait from Iraqi invaders. Navy photo by Ed Bailey.
June 25: Yugoslavia breaks apart, civil war begins.
Aug. 19: Soviet coup attempt blocked; later the Union of Soviet Socialist Republics dissolved.
Sept. 30: U-Pass program begins, offers subsidy for bus passes and other options. UW parking lot usage goes down 14 percent.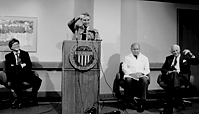 Left to right, Bill Gates, Leroy Hood, President Gerberding and Medical School Dean Philip Fialkow.
Oct. 7: William Gates III donates $12 million to UW for hiring of Leroy Hood and creation of Department of Molecular Biotechnology.
Dec. 31: Nirvana's album Nevermind top rock recording of the year.
1992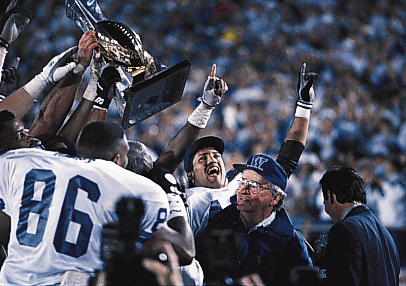 Jan. 1: Huskies go undefeated for the first time since 1915; share 1991 national championship in football. Photo of Don James and players by Irene Fertik.
Feb. 28: UW Libraries celebrates the acquisition of its 5 millionth volume, The Uses of Ecology, Lake Washington and Beyond by Zoology Professor Emeritus W. T. Edmondson.
March 12: Biennial budget cut 2.5% by Legislature.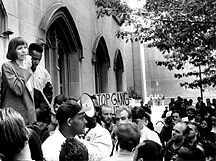 UW Provost Laurel Wilkening addresses students gathered in front of the UW Administration Building after the Rodney King verdict is announced. Photo by Mary Levin.
May 1: UW students protest acquittal of LA police officers involved in the beating of Rodney King.
June 30: Campaign for Washington ends successfully, having raised $284 million in gifts and pledges.
Sept. 27: Greek Row melee results in student losing sight in one eye.
Oct. 12: Biochemistry Professor Edmond Fischer and Pharmacology/Biochemistry Professor Edwin Krebs share Nobel Prize in Medicine.
Nov. 3: Bill Clinton defeats George Bush to become 42nd president.
Nov. 10: Quarterback Billy Joe Hobert suspended after Seattle Times reveals he accepted loans worth $50,000 in violation of NCAA rules.
Dec. 15: Special investigator appointed after charges of NCAA violations by UW football program boosters are published in the Los Angeles Times.
1993
Feb. 26: World Trade Center bombing kills six.
May 6: State passes 1993-95 biennial budget; UW cut by 4.6% with no salary increases.
May 17: Gerberding addresses UW, later appoints task force to look at emerging issues in undergraduate education, graduate education and research, and institutional structure.
June 30: Federal, private and other research funding to the UW for fiscal 1993 reached the $430 million mark. UW now ranked second for all U.S. colleges and universities receiving federal research funding.
Aug. 22: Pac-10 imposes a two-year bowl ban and a one-year forfeiture of TV revenue on the UW football program for 15 violations of NCAA rules. Coach Don James retires in protest; Defense Coach Jim Lambright becomes head coach.
Sept. 13: Israel and PLO sign peace accord; Rabin and Arafat shake hands at White House ceremony.
Oct. 22: Regents authorize resumption of investments in companies doing business in South Africa.
Nov. 2: Spending limit Initiative 601 passes by a 20,000-vote margin. Tax rollback Initiative 602 defeated.
1994
Jan. 21: President Gerberding announces plans to step down in June of 1995.
April 8: Nirvana's Kurt Cobain commits suicide.
May 9: Nelson Mandela elected president of South Africa.
May 23: Plan for Southwest Campus development passes Seattle City Council after five years of debate.
June 10: Presidential Task Force recommends establishing an Undergraduate College and encourages interdisciplinary learning.
June 12: O.J. Simpson's ex-wife and friend found murdered, Simpson arrested six days later.
June 30: Record year in private gifts and grants total $122 million. Record year in federal and private research funding totals $459 million.
Oct. 10: UW alumnus Martin Rodbell wins Nobel Prize in medicine.
Nov. 8: Election gives Republicans control of Congress for the first time in 40 years.
Nov. 30: Effects of 601 Initiative felt as UW considers cutting institutes, departments and degree programs, including communications, Slavic languages and literature, environmental sciences, applied math and speech communications. END
Compiled from Associated Press news rankings, Time Magazine articles, UW press releases and University Week, the UW faculty/staff newspaper.-- by Tom Griffin, editor of Columns.
Send a letter to the editor at columns@u.washington.edu.