A Look Back at UW History

Controversy loomed as the UW football team prepared for the 1960 Rose Bowl. The 9-1 Huskies, ranked eighth in the nation, certainly belonged in Pasadena--and no allegations of NCAA violations emerged--but there was controversy nonetheless on campus.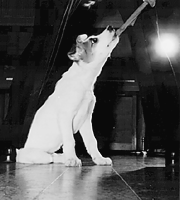 Denali as a puppy. Photo by James Sneddon.
Team mascot Denali, regarded by many as droopy-eared and scraggly tailed, had been fired by the student government prior to the game. ASUW leaders felt Denali had not grown into a classic Husky and thus failed to present the correct image for the high profile event.
But student protestors leapt to Denali's defense. "It is American tradition to speak up for the underdog," wrote Daily reporter Mary Richardson, "and never have we felt more compelled to champion one than in the case of our outcast mascot, Denali."
The dog had been a gift from the students of the University of Alaska, who got him from a prominent sled dog kennel. UW Law Professor Harry Cross volunteered to care for the puppy at his Kirkland home, and he and his son, Kim, have cared for every mascot since then.
"In Alaska they don't care what a dog looks like as long as he's strong and can pull a sled," says Kim Cross, who is currently the caretaker for 1995 mascot King Redoubt, the eighth Husky mascot.
"As Denali grew, he began to look like an overgrown fox terrier. He had long white hair that was slick. He wasn't fluffy like a Husky is supposed to be. But he was one of the strongest dogs I've ever seen."
While the campus debated Denali's removal, the search was on for a new mascot. More than 60 dogs were offered, including the lead sled dog of a great Alaskan expedition and one that had attacked a bear.
The honor went to a six-week-old Alaskan Malamute and headlines declared, "New Unnamed Mascot Debuts Soon" and "Great Mascot Debate Ends after Decision." The football team christened the pup King Chinook. He and Denali became housemates in the Cross home.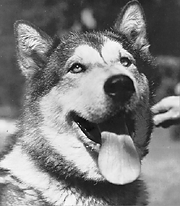 King Chinook. File photo.
But the choice of a successor did not quiet the uproar. "There is a strong movement afoot to take along both Denali and the newcomer," noted ASUW President Don Nielsen at the time.
The outcome was bitter for both dogs. "Denali never made it to the Rose Bowl, and King didn't make it, either. He was too young. They brought in a stand-in," recalls Professor Cross.
The stand-in mascot didn't jinx the team. Huskies won the Rose Bowl, beating Wisconsin 44-8, for their first-ever Rose Bowl victory, with quarterback Bob Schloredt and running back George Fleming sharing most valuable player honors.
Back in Seattle, Denali continued to live with the Cross household. But his bad luck continued. "In 1964 a dirty rotten neighbor shot him," Kim Cross recalls with a hint of pain in his voice. "The neighbor said Denali killed a sheep, which never happened. We think he planted the sheep as bait so that he could shoot dogs."
Though he came to a sad end, Denali still stands in the record books as the official 1958 mascot, right between "Ski" (1954-57) and King Chinook (1959-68). -- Craig Foster
Send a letter to the editor at columns@u.washington.edu.