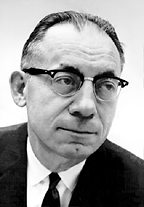 Ernest Conrad, '40. Photo by James Sneddon.
Ernest M. Conrad, a 1940 graduate who pushed the UW campus boundaries while preserving its beauty, died of a heart attack Nov. 21, 1994, in his Seattle home. He was 80.
The buildings and grounds of the UW are a lasting legacy of Conrad's devotion to his alma mater. As vice president for business and finance from 1963 to 1974, he purchased property for the UW, hired the first University architect and oversaw the campus transformation during the late 1960's building boom. At his memorial service, State Rep. Helen Sommers credited Conrad with preserving the beauty of the campus. "The vision Ernie had is still there," she said.
According to former Regent Jim Ellis, Conrad also played an important part in keeping the campus calm during student protests against the Vietnam War. Conrad was able to arrange meetings between student leaders and regents that eased tensions, Ellis recalled. "Ernie constituted that thin thread that held that place together," he said.
Born March 17, 1914 in Davenport, Wash., Conrad graduated from the UW in 1940 with a business degree and was manager of the UW Student Cooperative Association until he joined the UW business office in 1944. He became the UW's business manager in 1957.
After serving as business and finance VP, he spent two years overseeing the UW's Metropolitan Tract in downtown Seattle. At his retirement in 1976, the regents praised his "outstanding service in the financial and business operations of the University."
At that time the alumni association honored him with its Distinguished Service Award. Conrad was the force behind the association's purchase of Alumni House at the corner of 45th Street and 15th Avenue NE. He was one of the leaders of the Class of 1940 50-year reunion and, just prior to his death, was helping organize reunions for classes that had already celebrated 50 years.
A vigorous, charming and sometimes outspoken man, Conrad was as active during his retirement as he was working at the UW. He served on the boards of Olympic College in Bremerton, the Hansville Water District, Group Health Cooperative and the UW Retirement Association. He is survived by his wife, Kathryn, '41, who he met at the UW, two daughters and three grandchildren. Remembrances can be made to the Ernest M. Conrad Scholarship Fund, c/o the UW Foundation, AI-10, University of Washington, Seattle, WA 98195. -- Tom Griffin
Send a letter to the editor at columns@u.washington.edu.