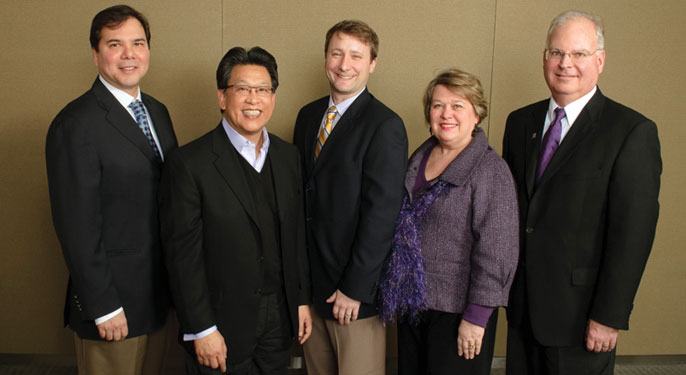 The UWAA Executive Board: Dave Gandara, Eddie Pasatiempo, Mike Egan, Sue Williams and Rick Osterhout. (Not pictured: Colleen Fukui-Sketchley.)
Photo by Karen Orders
UW Alumni Association Raises its Voice
For more than 120 years, the UW Alumni Association has supported a diverse group of alumni and friends and enriched the lives of people in the community, the state of Washington, our nation and the world. In this capacity, and because of Washington state's challenges in funding higher education, the UWAA Board of Trustees is taking action to support those who value the ideals of higher education and specifically the UW.
Last year's state budget cut 26 percent from higher education, and with more cuts expected I am pleased to announce an exciting new UWAA initiative that will increase awareness and understanding of the value and impact of the University. UWImpact.org is a civic advocacy resource for alumni and friends that provides publicly available information on issues affecting the UW as well as opportunities to take action to support higher education.
Let's be clear, this isn't about politics. It's about valuing higher education. As a private, independent, nonprofit organization, the UW Alumni Association is coming together to raise awareness and communicate our collective commitment to the mission of higher education. The purpose of UWImpact is to keep you informed of the issues and to provide opportunities for you to take action if you want. The UW Alumni Association has created a new Web site, uwimpact.org, that is developed and maintained by the UWAA. It is funded by the UW Alumni Association and not at public expense. It doesn't represent the views of the University.
The alumni community is diverse. That's why the Board of Trustees formed a legislative action committee to assist the nonprofit's efforts. Alumni and supporters are encouraged to contact the committee with ideas and suggestions at lac@uwimpact.org. UWImpact conforms to state and federal legal guidelines for lobbying and other advocacy activities by nonprofits. It's a resource that can be used by anyone who supports higher education and wishes to communicate that message to others.
The exciting thing about red and blue is that it makes purple. That's our favorite color and, ultimately, that's what UWImpact is about—equipping alumni and friends with information and opportunities. As supporters of this great university, we have a stake in supporting higher education. A strong UW is essential to our state's economic and social well- being. Join the UW Alumni Association.
Sincerely,


E.M. "Eddie" Pasatiempo, '77
President, UW Alumni Association