HONORING THOSE WHO SERVED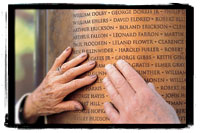 Photo by Jon Marmor
Thank you for including the WW II Fallen in your "Everyday Heroes" [
Prelude, December 2009
]. There are about 600 names of University of Washington students on the list of those who gave their lives in WW II, rather than 255. We UW alums of "The War Years" worked five years to create the Flagpole Memorial and I understand that UW students, alumni and others worked an equal amount of time to create the impressive Medal of Honor Memorial.
Trivia: The hands in the photo are those of Brewster Denny, '45, our WW II Memorial chairman, and myself.
Lois Logan Horn, '44, '52, '56
Seattle
MUCH TO BE PROUD OF
I just received the December 2009 Columns and really enjoyed reading your prelude "Everyday Heroes" about the honor of service. It brought home the Husky heritage of personal sacrifice and service to our world; from Guatemala to Mount Everest, the Peace Corps to the campaigns of war, and eradication of smallpox.
As a military veteran, I was especially pleased to see your comments on WW II veterans and Medal of Honor recipients, especially noting that the spirit of a Vietnam War hero lives on. One claim that needs to be verified is that "UW has more Medal of Honor recipients than any other public university." The count I see for UW is seven from Web references, which is a three-way tie with Virginia Tech and Texas A&M; Harvard (a private university) has 16. Is the count for UW correct?
Regardless of the record, we have much to be proud of with so many high-achieving and selfless alumni and friends in our midst!
James P. Fancher, '83, D.D.S., Ph.D.
Martindale, Texas
ONCE-IN-A-LIFETIME EXPERIENCE
I could not be prouder to be a member of the University of Washington faculty. I was one of the nameless veterans standing in awe [at the dedication of] the Medal of Honor Memorial on campus.
I was on my way home from work when I thought I would stop by the ceremony, not sure what I would encounter … protest or pride. Never did I imagine the scene would create a priceless, lasting memory that I would cherish as a veteran of a foreign war. Shame on me for forgetting that I now have the honor of serving at one of the most enlightened universities on the face of the earth.
Imagine this: to the left of me were octogenarian Japanese American veterans from Seattle, who fearlessly fought in World War II. To the right of me were bikers in leather, my vintage, wearing their military awards and saluting as the Medal of Honor veterans passed by. And I hugged a "Gold Medal Mother" who lost a son in Iraq. [She is] a person I work with daily, but only [at the ceremony] did I learn of her painful sacrifice.
At the end of the day, I am still trying to share with my fellow veterans what I witnessed. Suffice to say, it was a once-in-a-lifetime experience for many of us. So, thank you. I will continue to generously support this very special university for all the discoveries and great things it brings to its free citizens.
Richard G. Ellenbogen, M.D., F.A.C.S.
Professor and Chairman
Department of Neurological Surgery
University of Washington
Seattle
Editor's Note: Verifying the number of UW students and alumni who received the Medal of Honor was a daunting task. In the end, the UW Office of the Registrar went through the entire list of Washington citizens and certified the eight honored in the memorial.