UWAA Takes on Advocacy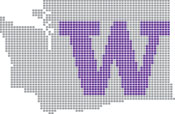 The UW Alumni Association has launched UWImpact.org, a civic advocacy program designed to help the public stay informed about issues facing the UW. The move comes partly in response to the negative impact of the economic environment on higher-education funding.
Recognizing that, as a state-funded institution, the UW is restricted in its methods of legislative advocacy— even on its own behalf—the independent, nonprofit UWAA developed UWImpact.org as a means of engaging alumni and the general public in advocacy efforts on behalf of higher education. The site, which launched in late January, provides information on issues affecting the viability of the UW, offers efficient ways for alumni to identify and contact elected officials regarding legislation affecting the UW, and more.
Columns Digital Magazine
The UW Alumni Association is proud to announce that Columns is now available as an interactive digital magazine. It's presented using the Issuu viewer so you can browse through it just as you would the printed version. You can zoom in, print pages or share articles by e-mail.
Just click the "Digital magazine" link next to the cover image to start browsing.
Need a little more help? Gets some tips for using the Issuu viewer.