Husky Sports Roundup
Tim Lincecum became the first player in baseball history to win the Cy Young Award his first two seasons in the major leagues. The former Husky baseball star pitches for the San Francisco Giants and is the youngest National League player to win consecutive Cy Youngs. In 2009, he went 15-7 with 261 strikeouts.
Quarterback Jake Locker announced in December that he would skip the 2010 NFL draft and return to the UW for his senior season. The Husky women's cross-country team finished third in the NCAA championships Nov. 22 in Terre Haute, Ind. Four UW runners earned All-America status by finishing in the top 40.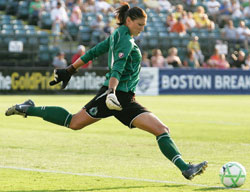 Photo International Sports Images
Nick Taylor
received the McCormack Medal from the Royal & Ancient Golf Club as the world's top amateur golfer. Taylor, a UW senior, spent 21 weeks atop the World Amateur Golf Rankings in 2009.
Mark Brunell, '93, won his first Super Bowl ring as the backup quarterback for the New Orleans Saints. He was the fifth Husky quarterback to appear in a Super Bowl.
Hope Solo, '04, was named the 2009 Female Athlete of the Year by U.S. Soccer. Solo, a former Husky soccer standout, is the goalkeeper for the U.S. Women's National Team.