Fetching Snowmelt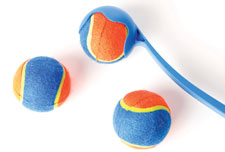 Call her the MacGyver of climate change.
Jessica Lundquist, assistant professor of civil and environmental engineering, has been using some unconventional tools for measuring snowpack. Instead of the typical $10,000 scientific weather station, Lundquist uses dime-size temperature sensors, first developed for the refrigerated food industry, and tennis balls. In summer she attaches the sensors to tennis balls weighted with gravel and uses a dog-ball launcher to propel them high into alpine trees. The $30 devices record the temperature every hour for up to 11 months.
This isn't TV spy work—it's science. Lundquist studies mountains to learn how changes in snowfall and snowmelt—and thereby mountain rivers—will affect communities and environments at lower elevations. Mountain rivers provide water for 40 percent of the world's population, including most of the Northwest. They can also create devastating floods.
Lundquist has deployed her sensors in research projects with the California-Nevada River Forecast Center, Yosemite National Park and the City of Seattle.
—Hannah Hickey writes about all things UW for University Week and Columns.
Columns Digital Magazine
The UW Alumni Association is proud to announce that Columns is now available as an interactive digital magazine. It's presented using the Issuu viewer so you can browse through it just as you would the printed version. You can zoom in, print pages or share articles by e-mail.
Just click the "Digital magazine" link next to the cover image to start browsing.
Need a little more help? Gets some tips for using the Issuu viewer.