Light Rail Work Begins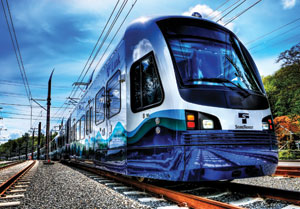 Jason Hoover Photography
Light rail is coming to Husky Stadium. In January, Sound Transit began preparing the site, including fencing off a portion of the stadium's parking lot E11 and barricading portions of the initial 4-acre construction, removing asphalt and installing foundations for the construction wall. The initial stage of construction will occupy roughly 400 parking spots.
The underground station will be part of Sound Transit's U-Link, a 3.15-mile light rail extension running between downtown Seattle and the UW, with a station on Capitol Hill. Construction on the two stations and the tunnel track began in 2009 and will continue until the U-Link opens for service in 2016.
Columns Digital Magazine
The UW Alumni Association is proud to announce that Columns is now available as an interactive digital magazine. It's presented using the Issuu viewer so you can browse through it just as you would the printed version. You can zoom in, print pages or share articles by e-mail.
Just click the "Digital magazine" link next to the cover image to start browsing.
Need a little more help? Gets some tips for using the Issuu viewer.