Brotherly Grub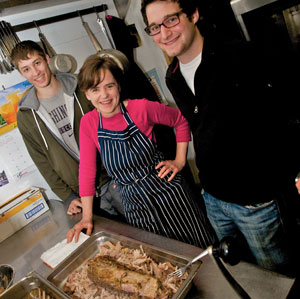 Photo by Kerry Dahlen
Chefs who cook almost everything from scratch and use local ingredients whenever possible are an atypical breed. Rarer still are female chefs who work in college fraternities.
Alpha Sigma Phi's Darlene Barnes may be the only chef in America— or at least at the UW—who belongs to both clubs. A former Dallas-based personal chef, Barnes cooks alone for up to 75 hungry Huskies each night, on a weekly budget of $48 per head: phenomenally frugal when you consider her entrees.
On a Wednesday in December, Barnes prepared a supper of kale, twice-baked potatoes, squash from Carnation's Full Circle Farm, and "Mexican pot roast" procured from Creekstone Farms in Kansas, a supplier "that's doing business in a way I support," Barnes says.
The ensuing meal tasted a whole lot closer to heaven's zip code than that of Greek Row, where walk-in freezers are typically stacked high with processed fare.
—Mike Seely, '96, is managing editor of Seattle Weekly, where a longer version of this article originally appeared.
Columns Digital Magazine
The UW Alumni Association is proud to announce that Columns is now available as an interactive digital magazine. It's presented using the Issuu viewer so you can browse through it just as you would the printed version. You can zoom in, print pages or share articles by e-mail.
Just click the "Digital magazine" link next to the cover image to start browsing.
Need a little more help? Gets some tips for using the Issuu viewer.