UW Teams Medal with Bacteria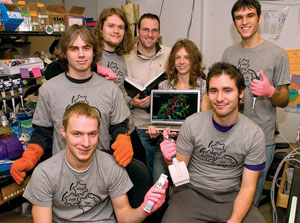 Gold medal winners (clockwise): Ingrid Swanson, Alex Leone, Douglas White, Joseph Dunbar, Chris Elben, Jeff Nivala and Justin Siegel.
Photo by Mary Levin
It's all about getting bacteria to do neat things.
At least that's Eric Klavins', associate professor of electrical engineering, take on iGEM, or the International Genetically Engineered Machine competition. The contest challenges undergraduates to build novel biological systems that actually operate within living cells.
This fall five UW undergraduates, four graduate student advisers, and faculty adviser Klavins did neat things—and received a gold medal at iGEM—when they attempted, by genetically modifying bacteria, to develop a new 10-minute method to help isolate proteins that requires no highly specialized equipment. Many enzymatic reactions in industrial processes, and most research in biochemical labs, require pure proteins, yet the approximately 12-step process for isolating proteins takes a skilled worker about four hours to complete and hasn't changed in more than 20 years.
A second UW team, composed of one undergraduate student, an 11-year-old non-matriculated UW student, and a group of advisers, won silver for a software-focused solution that literally used Lego pieces to build a device to replace expensive lab equipment for assembling biological parts.