Student Uncovers Ancient Native American Artifact on Campus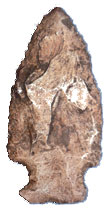 Late last fall, one freshman wielding a pronged garden fork overturned archaeological history: a 4,000- to 6,700-year-old Native American spearhead. The discovery came in October when, while volunteering at the UW's botany greenhouse, Ellen Van Wyk found a tan-and-red projectile point buried in the ground. In response, archaeologists from the Burke Museum of Natural History and Culture dug three test pits nearby and uncovered two more stone tool fragments.
The 3-inch-long, 1 ½-inch-wide projectile point is the eighth Native American artifact found on campus and recorded at the Burke and the second high-profile archaeological find made by a student in the past year. In July, a student at the UW's Archaeological Excavations and Field School at Tel Dor, Israel, discovered a carnelian gemstone engraved with a portrait of Alexander the Great.