Research Opportunities Give Freshman a Head Start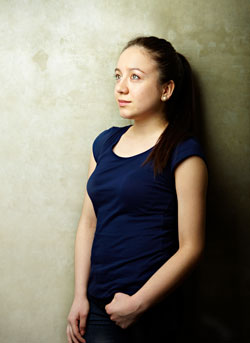 Dreaming big takes on a whole new meaning when you're the first person in your family to go to college and you dream of becoming an ER doctor and finding a cure for malaria.
But for UW freshman Laura Barerra Martinez, those dreams are coming closer to reality every day. "In Colombia, where I was born, it is very expensive to go to the hospital. I thought if I was a doctor, I could just help the people myself," Laura says.
Laura moved to Everett to live with her grandmother five years ago. By the time she graduated from high school her hard work had paid off. She was recruited for the UW's Genomics Outreach for Minorities (GenOM) Project, which guides young students to consider and participate in research, and received the Gates Foundation Achiever's Scholarship. Working on the GenOM project provided Laura with hands-on lab experience before taking one step on campus. And thanks to the Husky Promise, Laura isn't paying a penny for tuition and fees.
Though only in her freshman year, Laura is already researching organisms that can "eat" plastic and ease pollution. The experience is a building block for the Ph.d./MD combination in Microbiology and Medical Technology she plans to complete at the UW.
"I'm already making a contribution," Laura said. "I have such amazing support from my mentors at the UW, and so many opportunities. I feel like everyone here shares my dream: to help make the world a better place."