Message from the Foundation Chair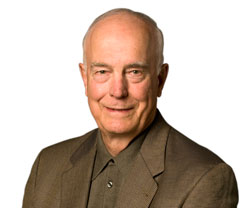 When the right people are in the right place at the right time, great ideas take shape. It's this framework that has helped define our corner of the country as entrepreneurial and forward-thinking. Not surprising, the community and business landscape here includes a good number of organizations that epitomize innovation: Boeing, Microsoft, Amazon, the Gates Foundation and PATH, to name a few. And in the midst of all of this stands the University of Washington.
Naturally, the UW takes pride in the role we play in fueling our region's spirit of discovery. Behind our longstanding commitment to find better ways to live, learn, work and make our world a better place is the innovative work of our students, our faculty and our alumni.
We see it in faculty like Buddy Ratner — a veteran researcher who's devoted his career to making medical implants most compatible with the human body. And students like Laura Barerra Martinez, who as a freshman, is already working to translate new ideas into discoveries that will help us all.
Not only does innovation help a region thrive, it improves lives for the better around the world. Now, that's a great idea.


Daniel J. Evans, '48, '49