Help Grow the UWAA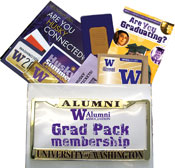 UW Alumni Association members enjoy access you can't get elsewhere, Dawg Deals and national discounts that save you money, career services that make a difference, and so much more. It's a great way to stay connected—and it makes a great graduation gift!
If you have a child, friend or family member graduating from the UW in 2010, consider giving the gift of UWAA membership. Our exclusive Grad Pack is perfect for first-year alums, and it's a bargain at $25 (one year) and $400 (lifetime). Plus, new Grad Pack members get:
Free UW Alumni license plate holder
Free UW Alumni window decal
10 percent off coupon for diploma frames, and more!
To learn more, see our "Why Join?" page at UWalum.com
Drive with Pride!
Take your Husky spirit on the road with an official UW license plate. A portion of the proceeds benefits UW student scholarships. Get yours today at uwlicenseplates.com.