Traditions: Egged On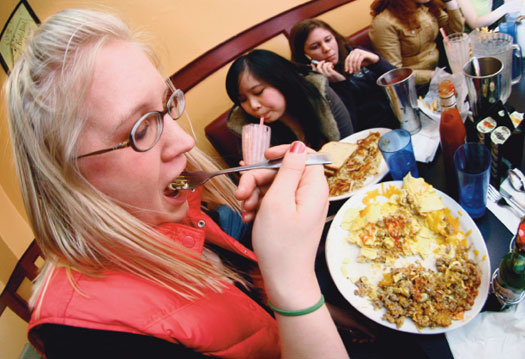 Daily Editor Sarah Jeglum seems to have lost her friends' interest as she struggles to finish a 12-egg omelette after sending the paper's last issue to press in winter quarter 2008. Photo by John McLellan.
At the end of every quarter, after the final edition of the paper has been sent to press, the editor of the UW Daily still faces a major challenge: finishing a 12-egg omelette from the Hurricane Café in Belltown. Though the exact origin of the midnight tradition is unknown, Daily editors have been presented with this mission by their staffs for at least 13 years.
Current editor Sarah Jeglum, who has performed the ritual twice, thinks the omelette was selected because it's the worst item on the restaurant's menu. "By the end of the 12 eggs," she says, "you feel like you have a huge balloon in your stomach, and you can barely walk." Once, after the celebratory meal, Jeglum felt like she was going to be sick. "A roommate looked up 'how to make yourself throw up'," she recalls, "and the first entry was—believe it or not—drink a raw egg."—Katie McVicker